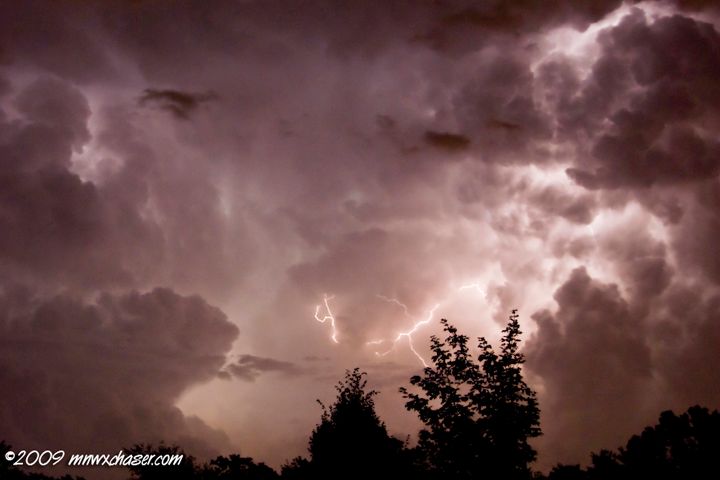 Go back and look at
my August 7th post
. Is it just me or has every model been pretty much off by about 3 hours this year as they want to erode the cap too fast and speed up the surface features? The RUC always has had the cap erosion issue but it seems to be sreading. Missed the forecast by 17 miles. I can deal with that. Being off by 3 hours...not so much. The kids wanted to chase yesterday and after getting suckered into that sup which came out of SD and promptly died, I was really hoping my original initiation target of Blomkest to Dassel would pan out. It kind of did so we watched from near Norwood as tower after tower would go up and puke as the lift wasn't strong enough to punch through the cap. We kept drifting east and north in front of the triple point as the cells still struggled finally ending up in Montrose. Everything coming up form the southwest on the CF was still looking like crap. Well, I have a "never chase east of highway 25 and south of highway 55" rule as that area is filled with hills, trees, lakes, more trees, horse ranches, nothing even close to a straight road, and even more trees. We headed home, made a quick dinner then sat in the driveway to watch the struggle show continue. Finally one tower about straight south finally looked like it was going to go. Unfortunately it also looked like it was going to go right into the metro. Took a few shots from the northwest looking southeast.
Cullen went back into the house and suddenly yelled "TORNADO WARNED!!!". My first thought was "oh crap...this is not good". Yep, one hell of a supercell. Had to use the TDWR data for real for the first time as the cell was in such close proximity to the MPX site. Cullen of course already had an intercept route figure out but I made it perfectly clear there was no way I was going after a torn inside the metro. I can deal with the tornado. Not the 1.5 million morons diving at the same time trying to get a look at it thanks to "the good neighbor". As luck would have it, there were a lot of really good, HIGHLY EXPERIENCED chasers who were also drifting back in on highway 12 from out west and were in as good of a position to observe as possible considering where it was. Accurate reporting to the NWS wouldn't be an issue (yes, I still have little or no faith in Metro Skywarn or metro law enforcement to accurately report anything other than a sprinkler malfunction on a golf course). If this statement offends some readers, fine. It's hard to argue with past factual records. How about the yahoo ham who tried to report striations to Metro last night? It was good to hear net control shoot this putz down. There is a tornadic supercell crossing a major metropolitan area and this idiot just needs to get on the air to report something....anything.
I agreed to head east for a lightning show and go as far as Dayton along the Mississippi River. What a show it was. This is 13 minutes of video condensed down to 32 seconds.
Here is the webpage
with the full set of pics from last night of the lightning. Be forewarned I also take as shot at the newbies who are more or less bragging about getting in the Orono torn. Don't like it? Tough...