One weekend closer to spring. We have had some type of snow or ice crystals fall 27 out of the past 31 day now. Unbelievable. All we need now is for the Arctic Express to visit a few time between now and mid-March. If is does happen (my definition is at least 5 consecutive days where we stay below 0°F), I would call this an "old fashioned winter". However, 2010 was the year of extreme weather in Minnesota so I'm hoping 2011 starts off with a bang...a BIG bang.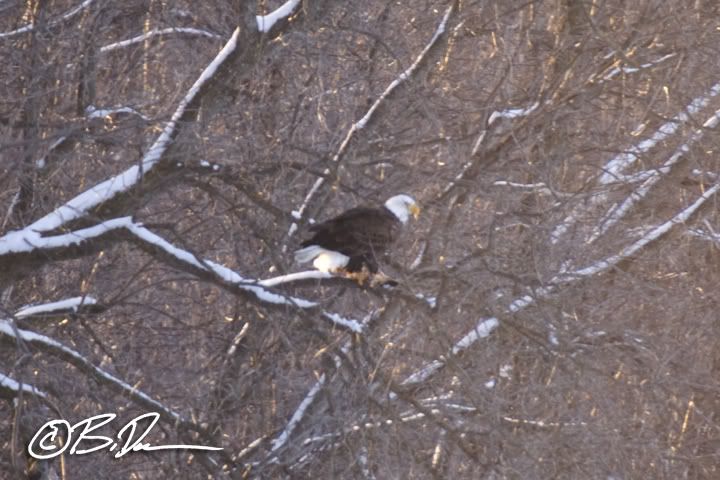 Not my greatest eagle shot, but is isn't supposed to be. This is the same pheasant snatcher from last weekend. On Saturday Melinda and I went to see if he was around again. Sure enough, we come up over the hill and there he is about 100 feet off the road with another bird pinned to the ground. I screwed up and should have had Melinda take the wheel as we rolled past and I could have gotten some shots. 99 out of 100 times eagles couldn't care less about a moving vehicle but the second you stop or get out, they take off. We watched this guy head off to a distant tree line while a pile of feathers blew away from the first spot we had seen him. This is MAJORLY cropped at 500mm and hand held. I'm guessing the bird was 200-250 yards away in this shot.
Once we left the eagle to his pheasant dinner, we cut over to near Silver Creek where I wanted to head west to check out some deer yards in hopes of seeing a coyote waiting for one to tip over. As we neared the town, a very noticeable plume of rancid black smoke was rising from near a house just west of the village. I made the comment to Melinda "I bet that is a sled on fire". Yup, as we crested the hill, this is what we saw: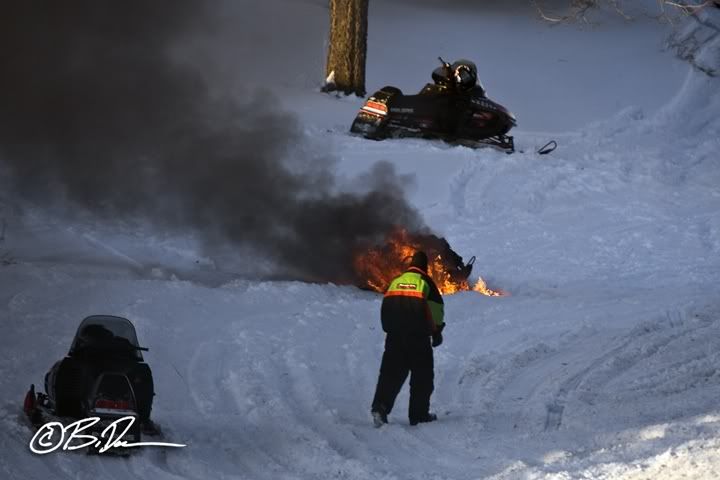 Bummer dude. I hope you had insurance.
Sunday's attempt was much more tame. With a new Alberta Clipper system coming in, the light was flat with the overcast skies and intermittent snow showers. There were a few deer out but nothing really noteworthy. Just a couple of does playing hide and seek in a corn field after sunset north of Maple Lake.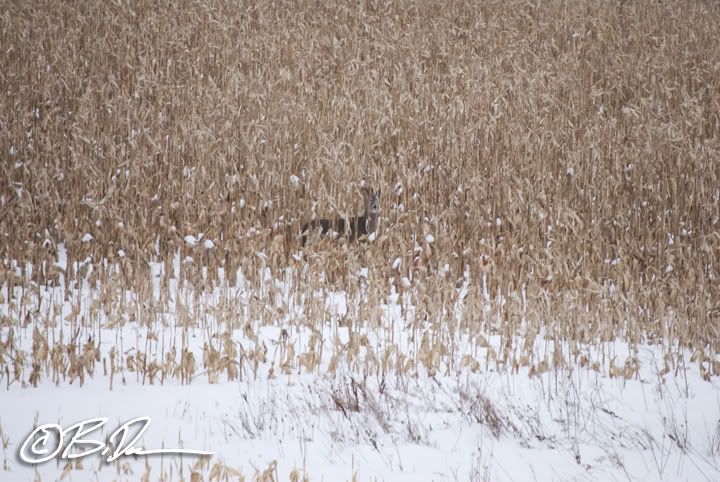 And one more winter activity has started up from now until the first weekend in March:
Cailyn is back at it again! Good luck kiddo....have a great season.