Who needs NASCAR when you have a few hundred dogs running the North Shore Trail? This is a big event with lots of coverage and is in one of the coolest areas of MN. Every Minnesotan needs to add the start of the Beargrease to their list of things to experience at least once in their life.
We didn't have any of our favorites in the marathon this year but Jen Freking, Blake Freking, and Billie Diver all ran the 106 mile mid-distance from Duluth up to Tofte. They finished 10th, 25th and 19th respectively. I decided to skip the starting line festivities and had Melinda and the kids drop me off about 7.5 miles up the trail where I hiked back in to the Lester River crossing. This would be a really cool place to shoot from on a cloudy day as the back light looking almost due south was pretty brutal.
Jen crossing the bridge at the Lester River.
Blake coming over the bridge.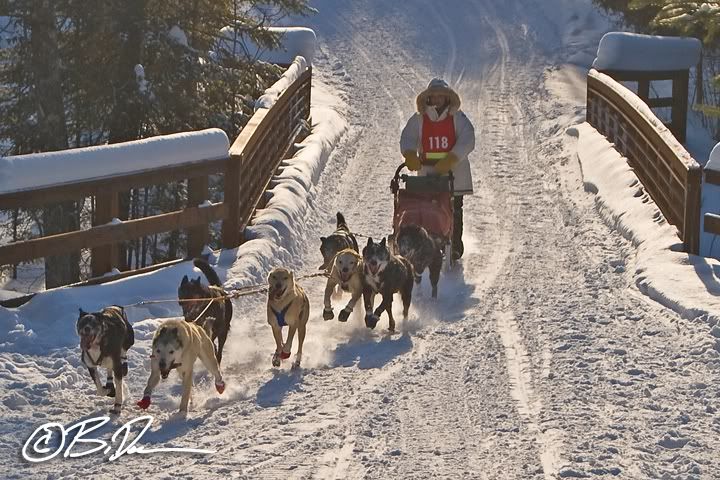 Billie and her team.
The marathon mushers were the first out though on their way to make on the 373.7 mile loop up to Gunflint Lake and back.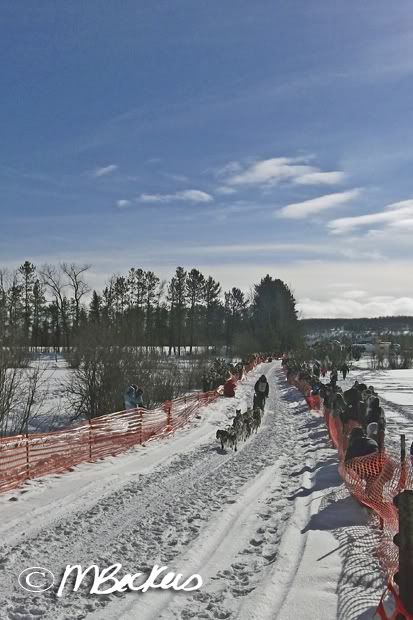 The view Melinda and the kids had from "the chute" coming down off the starting line. I was glad to see them put up more fencing this year. Some people and their kids were being complete morons last year in this area.
Curt Perano was the first musher out on the trail. Later on this leg of the race between where this picture was taken and the highway 2 checkpoint, his team was hit by a snowmobile.
You can read more about the accident HERE
. IMO the snowmobile crowd up there made up of cidiots needs to wake up. Pull over and STOP when you see a team. My lack of sensitivity for snowmobilers aside, I have to give Curt a lot of credit for finishing the race after loosing 4 dogs to injury because of a moron.
The eventual marathon winner, Ryan Anderson, of Ray, MN coming down the hill towards me. Quite the finish this year as only 20 seconds separated Ryan from the runner up and 2010 marathon champion Nathan Schroeder of Chisholm, MN.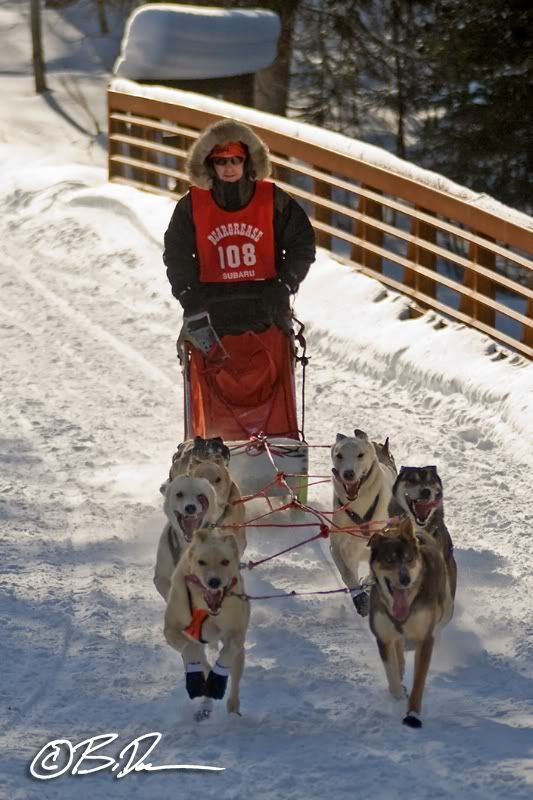 Mid-distance champion Dave Taylor of Sandy, OR. He beat out Maggie Heilmann of Somerset, WI by about 16 minutes.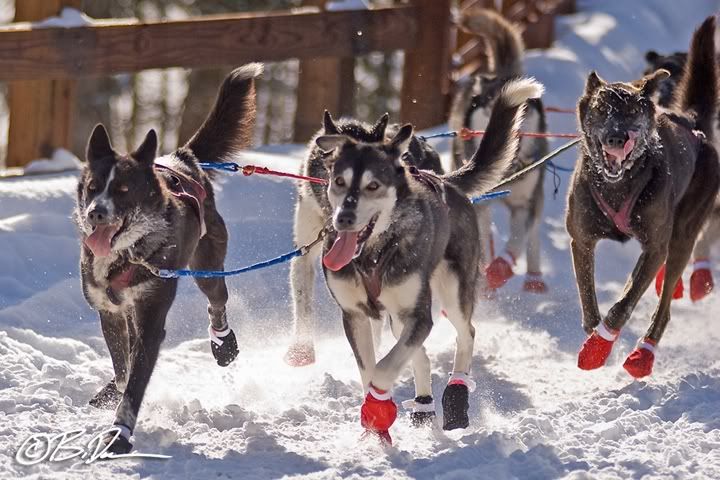 These dogs are incredible athletes and they love what they do.
A postcard setting in the Minnesota north woods.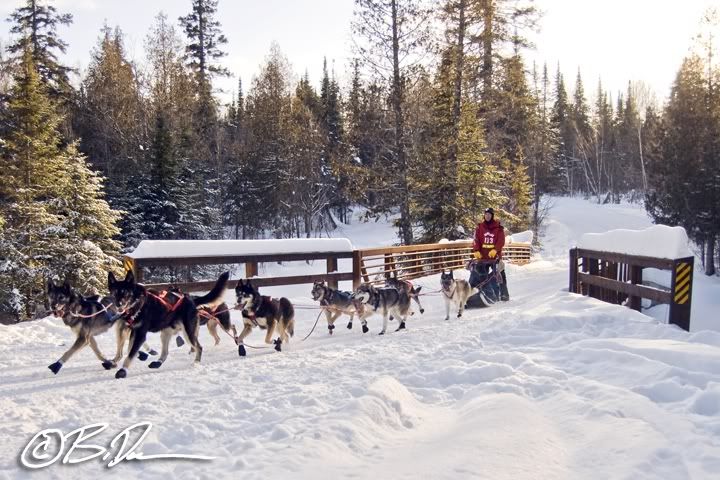 I have to give a shout out to Tom Roos from Alexandria, MN. He didn't have the showing he was hoping for at the Beargrease but his team did provide a little humor. His lead dog, Yogi, decide to stop and visit a couple of locals who had stopped to watch the race with me. Well, it doesn't take much to tangle a gang line when your lead dogs decide to stop and wander. The audio is pretty funny as Tom tells Yogi to stay on the trail. A minute or so later with me untangling dogs and getting Yogi pointed in the right direction again, Tom and his team were off. Thanks Tom and you team for leaving me with another Beargrease memory.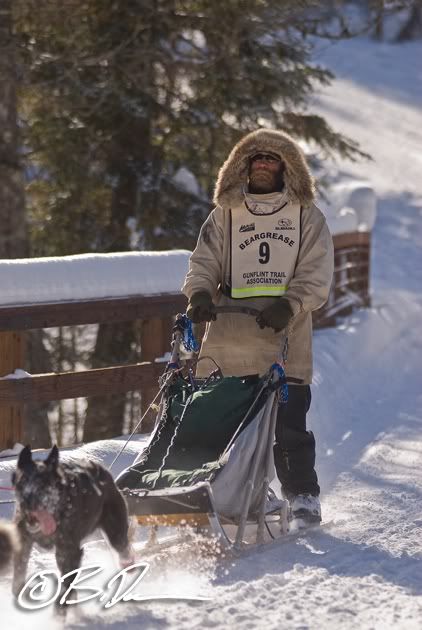 Marathoner Shawn McCarty of Ely, MN
Paul Amano of Kaministiquia, ON. Red lantern in the mid distance race.
3rd place marathoner and Minnesota mushing legend Jamie Nelson of Togo, MN. I wish I could post larger resolution images on here as the full size of this one is really nice.
As we become more and more involved in following the mushing scene in the winters as a way to pass the time until the spring storm season fires up, we are also looking at ways to help out.
Here Jessica and Cullen help out with the crossing at county road 37 northwest of Duluth.
And as always, if you are a musher or handler who competed in this race and would like a free 8x10 print of your team, please email me at
media.inquiries@mnxchaser.com
and we'll get one mailed out to you. Our way of saying thanks for the fun you provide for our family.