Man, somehow I keep getting further and further behind on getting the things on here I want to so going to make this pretty brief to make up some time.
Saturday the 12th Melinda, Cullen and I headed up to Outing, MN to meet up with Bob Johnson and Janet Bahe for the
Mid MN 150
. Logging activity caused a last minute change in the pro class so both the 8 dog pro and the 6 dog rec ended up running the 30 mile sprint up to Remer, MN.
HERE is a link to the full set of pic
s Cullen, Melinda, and myself took.
Janet going through sled check prior to the start.
Bob put Cullen to work as his handler for the race. Here is Cullen getting Holly's harness on.
Melinda putting booties on Buckwheat while Holly and Silver wait their turns.
It's been a long time since I have put dog booties on. Hopefully one day I'll get to do it with my own dogs again. I really miss working with the furry four leggers.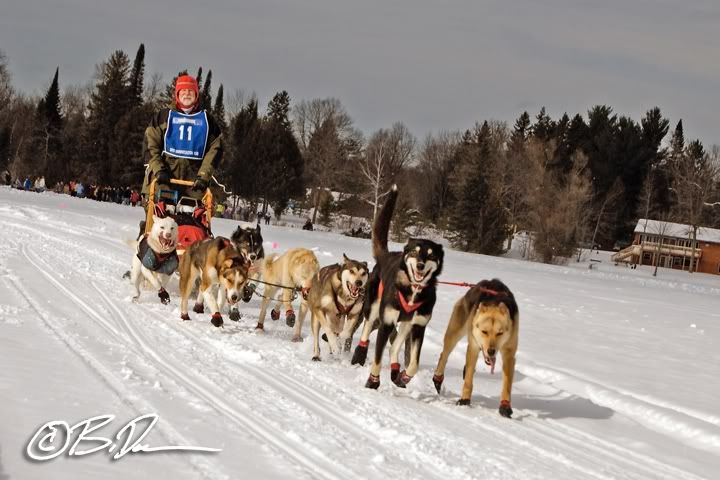 Bob at the start of the race going over Lawrence Lake. 4th place in the 8 dog pro class.
Janet coming into the finish in Remer, MN in 9th place in 8 dog pro class. Pretty warm for her team this day. Colder weather would have helped her.
Melvin Mickelson's team giving me a quick glance out on Lawrence Lake.
8 dog pro class winner Jason Jones from Walker, MN with a time of 2:33:46.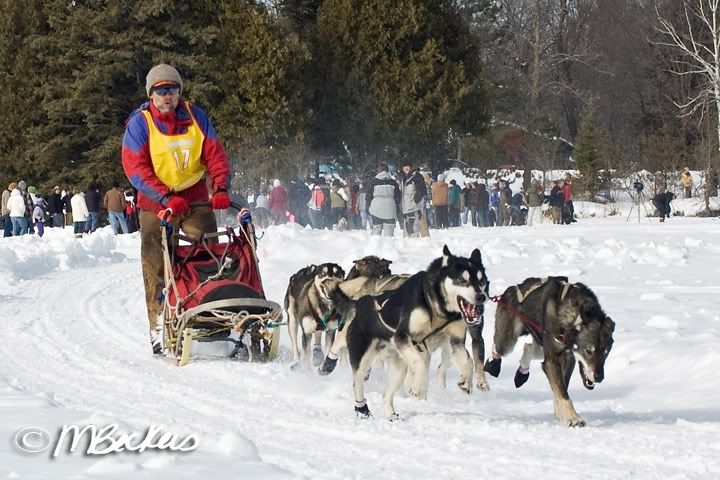 Veteran musher and 6 dog rec class winner Tom Benson from Ely, MN with a time of 2:35:58. This team FLIES. Tom had the 3rd fastest time overall. Only Jones and Mickelson in the 8 dog pro class were faster. Very impressive Tom!
After hanging out and shooting the bull with Bob for a while after the race, we made the sad turn south and back home. This eagle was parked over highway 6 south of Remer.
Sunday was a quieter day at home and the start of our big February thaw. We have had 61" of snow this year but with temps in the mid 40's to near 50, it is sinking fast. Sunday afternoon did give Cailyn and I chance to get out on the ice for a bit but it was WET.
Arctic air again for a just a few more weeks yet please.