I had another blog entry just about ready to go of our trip up into the St. Louis county MN wilderness and the Vermillion River, but I got a little sidetracked on Monday night. After giving up hope by late afternoon the clouds were going to break after a Coronal Mass Ejection (CME) hit the earth around 18 UTC, I was working on the other entry when a flood of text messages and phone calls from by chaser buddies down south finally got me interested to take a peek at a infrared sat image. When Tyler Burg called and said we was seeing auroras in Lincoln, NE and the Bz was hitting a -10S, I walked outside about 8:15 and looked at the north horizon expecting to see a faint green glow in the cloud deck to the north. The first thing I noticed were the bottoms of the green spikes were starting at about an altitude of about 50° and soaring overhead to the point I had to look a little south to see the tops! HO-LEE-CRAP!!! I knew this was not a "normal" aurora show we see up here. No sooner did I get a cam and tripod set up in the front yard (pointed STRAIGHT UP) did the real show start. I have never seen orange tinted auroras this far south that I can recall. For a little less than 10 minutes time stood still. It was perfect.
Complete set of images HERE
!
Keep in mind all of these shots are at 11mm!
The peak of the show about 7:35 pm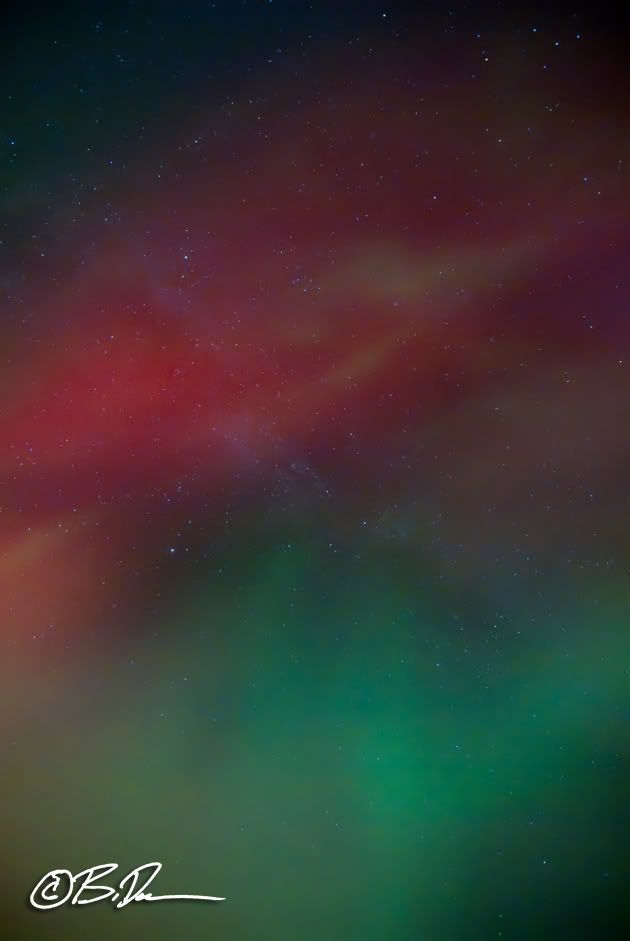 As the main show began to wind down, the sky overhead with filled with a gentle river of reds and greens traveling from northwest to southeast.
What a great show! Having the clouds break just long enough to allow us to see the brilliant show was a blessing we are very thankful for!