Made the somber trip down to Luverne, MN on the 11th for Andy Gabrielson's funeral. Andy and I were not close, but it was the right thing to do out of respect for his family and his close friends. I like a statement Dick McGowan made about how Andy's death seems to have brought the core of the chasing community together even closer. Maybe it is the reality no one wants to talk about. We are not immortal and we will all face the same event one day. The service was nice and the tribute Kory Hartman put together was very moving. After the service on the way to the cemetery, the town of Luverne sounded their tornado sirens. If that didn't put a lump in your throat or put a tear in your eye that day, nothing would. A tip of the hat to Kevin Haney and the Severe Studios crew for putting that together. A perfect tribute.
On the way home, I wanted to swing by a couple of state parks I pass often while chasing but have never stopped at. I love doing visits like this in the dead of winter as I can usually get most if not all of the park to myself. Yeah, it resembles a snowless tundra out there this year, but the solitude was perfect.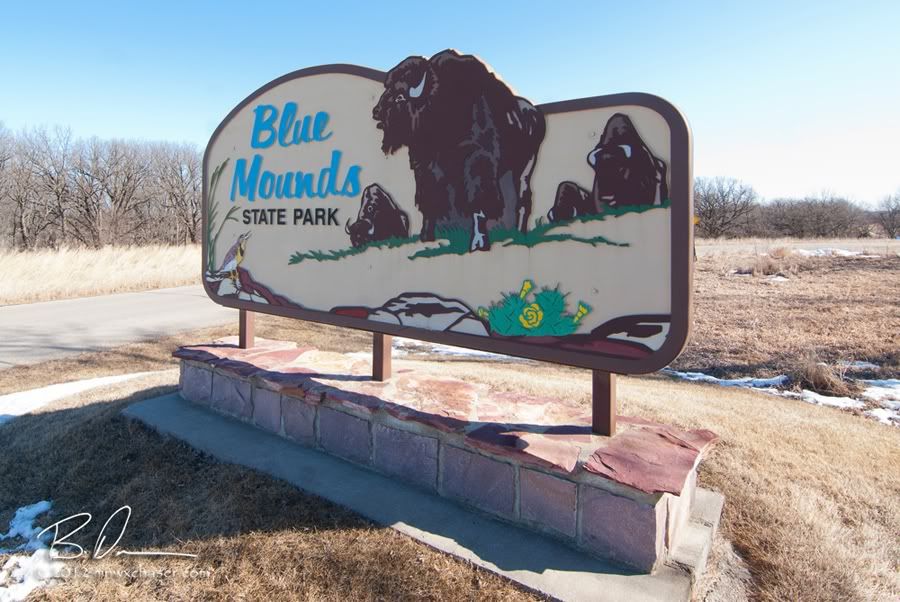 My first stop was Blue Mounds State Park just north of Luverne. One thing you will notice which seems very odd when you pull into the park is the sign designating rock climbing as one of the activities. In the far corner of the vast prairies of southwest MN a cliff rises 100 feet above it's flat surroundings.
Be sure to check out the virtual tour of this place from the MN DNR:
http://files.dnr.state.mn.us/destinations/state_parks/virtual_tours/bluemounds/vt_bluemounds.html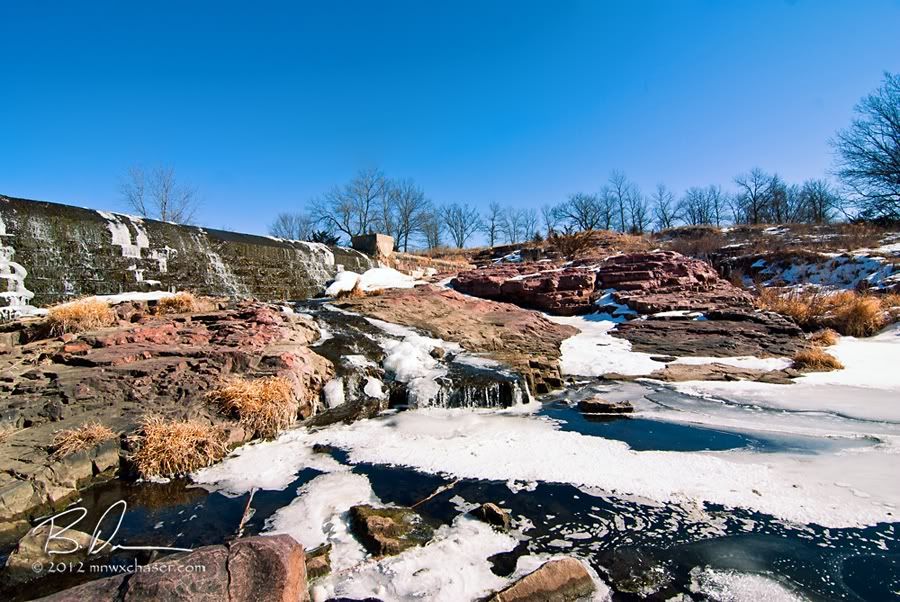 The dam on South Mound Creek.
The other draw at this park is the resident bison herd. While you can still see farms in the distance, one can fill in the gaps with images of the native prairie surroundings and get a feel for that it was like centuries ago as these massive beasts roamed within a sea of tall grass waiving in the wind and gently rolling terrain.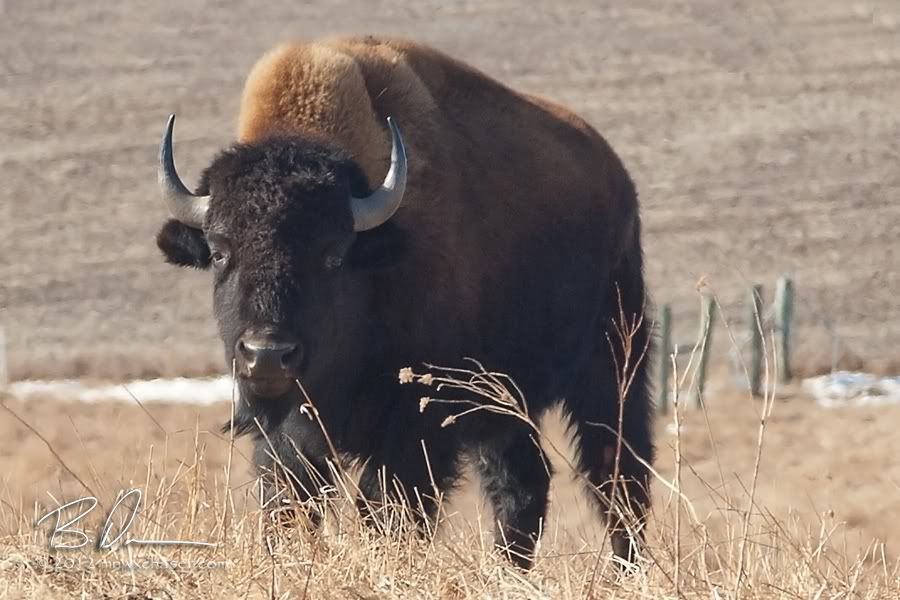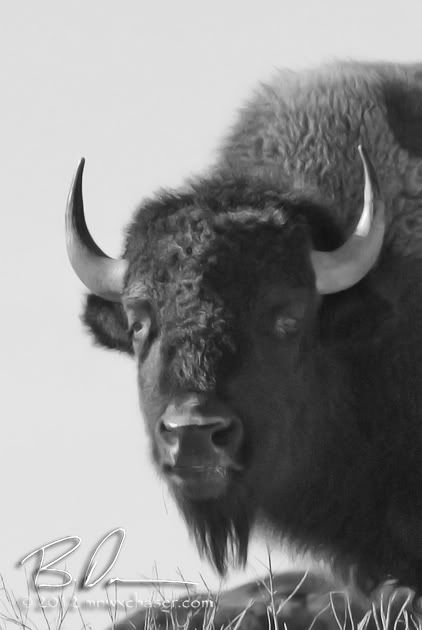 After leaving Blue Mounds. I headed north towards Pipestone, MN but made a quick jog over to Split Rock Creek State Park just south of the tiny town of Ihlen, MN.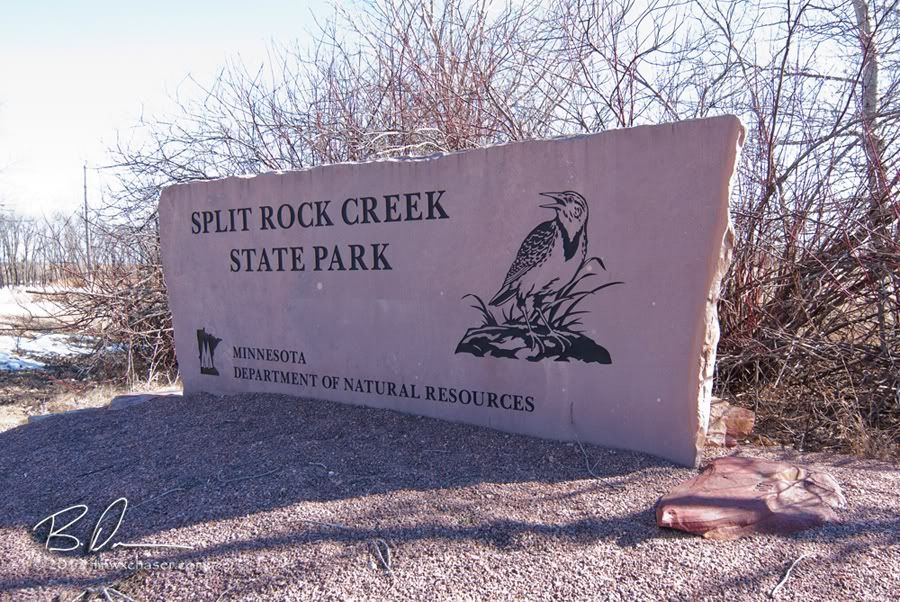 Quite honestly there is not much ooooh and aaaaahhhh at this park. A small lake (water impoundment) and some campsites. It does have some small tracts of of restored prairie but unless you a traveling and need a campsite or live close by and are looking for a close weekend getaway with the family, not much to see here.
I headed up to Pipestone then headed east on highway 30 to Woodstock, MN. This is the childhood home of my dad and I have several relative's buried in the small cemetery at the crossroads south of town. After stopping for few minutes to clean a couple of headstones on the graves, I headed north on county road 18 towards Ruthton, MN and the road home. Pretty crazy how the landscape has changed since I was a kid traveling this road with my dad to visit my grandparents. The rolling grass covered hills are the same, but the horizon has changed dramatically.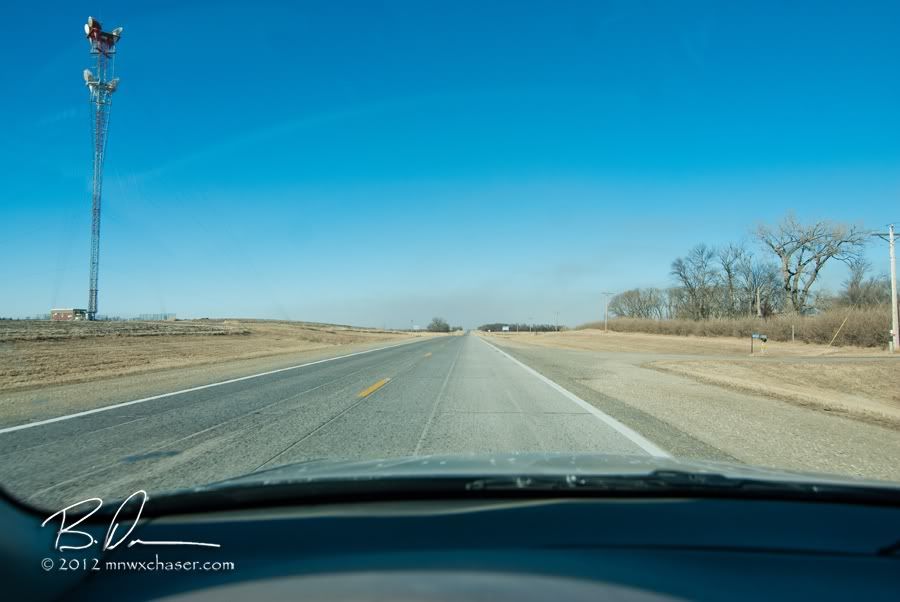 Wildlife sitings were pretty much non existent on this trip...less one rooster pheasant. The only item of interest was a huge smoke plume I drove through north of Granite Falls. Grass fires in western Minnesota are common, but in February? Maybe 2012 will be the oddest weather year yet up here?