Don't like the weather? Wait 24 hours. I think every Minnesotan has heard than line at some point in their lives. The past 24 hours has proven this to be true (unless you don't like cold weather then you are kind of hosed). As I type this entry, it is 26° degrees out. A far cry from the 73° it briefly made it up to yesterday. A powerful trough which had been well advertised by the models made it's presence felt over November 9th and 10th in the northern plains and Great Lakes areas. Parts of northwest and north central ND picked up upwards of a foot and a half of snow! We were on the warm side of the system to start out with.
A sat image from noon on the 10th shows a well defined warm front lifting across south central MN with temps rapidly climbing in it's wake as a cold front pushes in from the west. Note the thunderstorms ongoing in northeast MN!! In November!!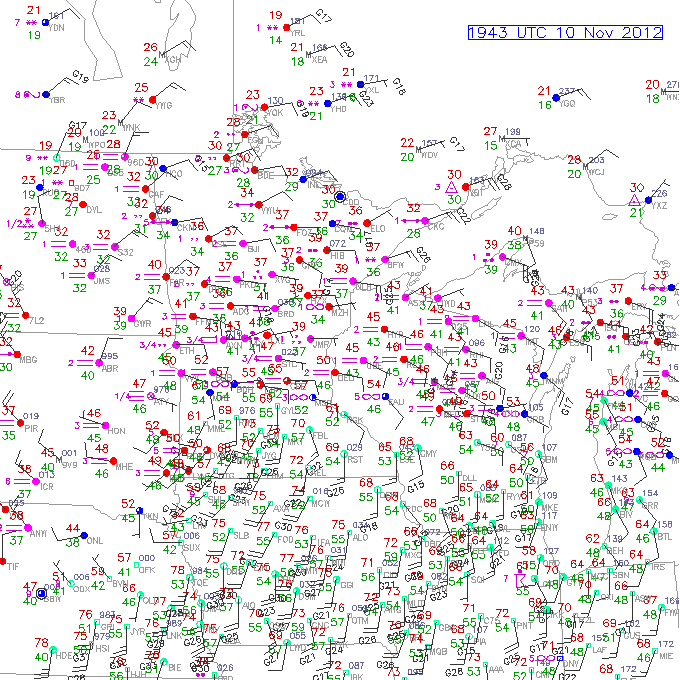 Surface obs from just before 3 pm. Look at those temps! Unfortunately (or fortunately depending on how you look at it) the warm sector stayed well capped eliminating the chances for tornadic supercells. But it also added to the elevated instability the cold front would use when it came crashing in from the west.
The warm from settle across the northern part of our county for the better part of the afternoon until another low pressure system ejected out of NE.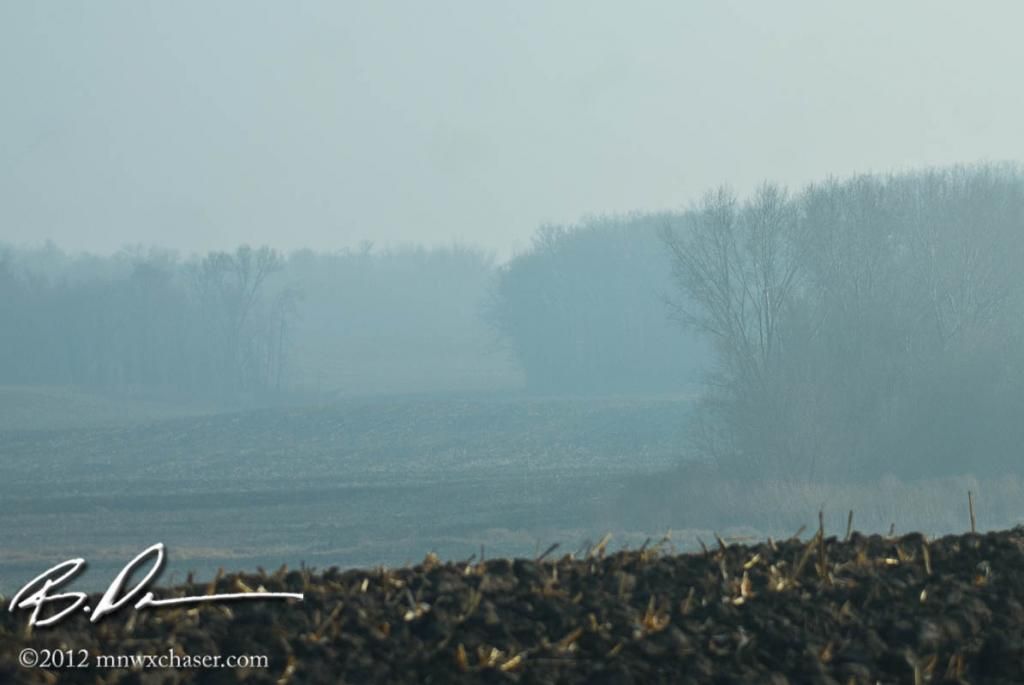 That isn't smoke haze. That is moisture pooling along the warm front about 15 miles north of my house. Go south, it was clear as a bell. Go north of it and the cloud desk was about 400 feet off the ground with fog and drizzle!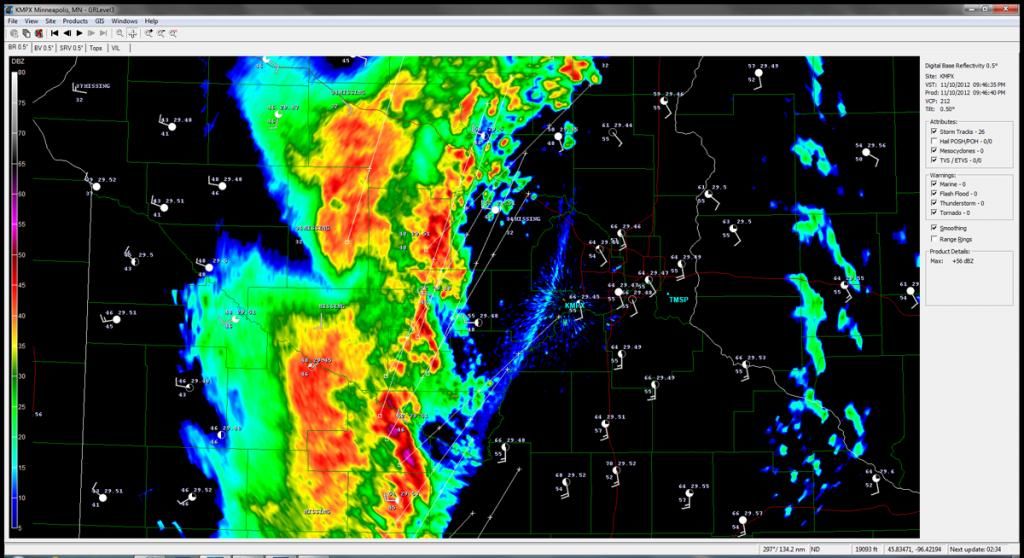 As I stated, NOTHING went off along the warm front. However the cold front was another story as a pretty strong line of storms formed out in NE and eastern SD which came marching in late in the evening just behind the front.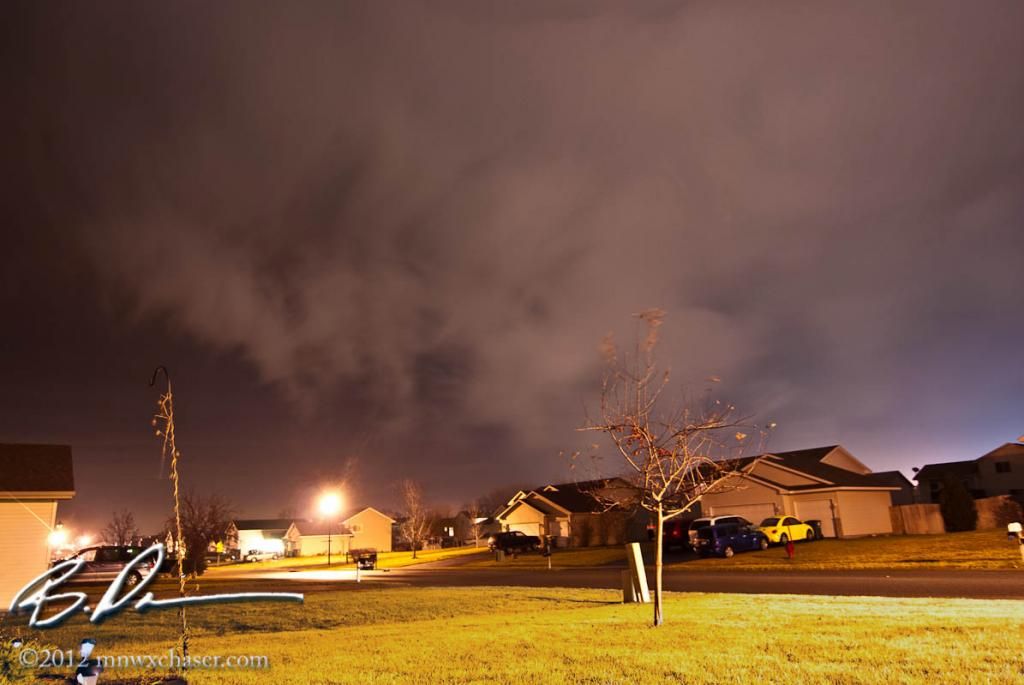 I wish I had gone outside a little sooner as the cold front came in. It looked like a solid white wall flying in from the west. This is looking east just after it passed but would still get the idea.
The storms provided us with some much needed moisture. After avoiding the drought which affected much of the country earlier this year, we went from a 5" surplus as of August to a nearly 3.5" deficit prior to this event.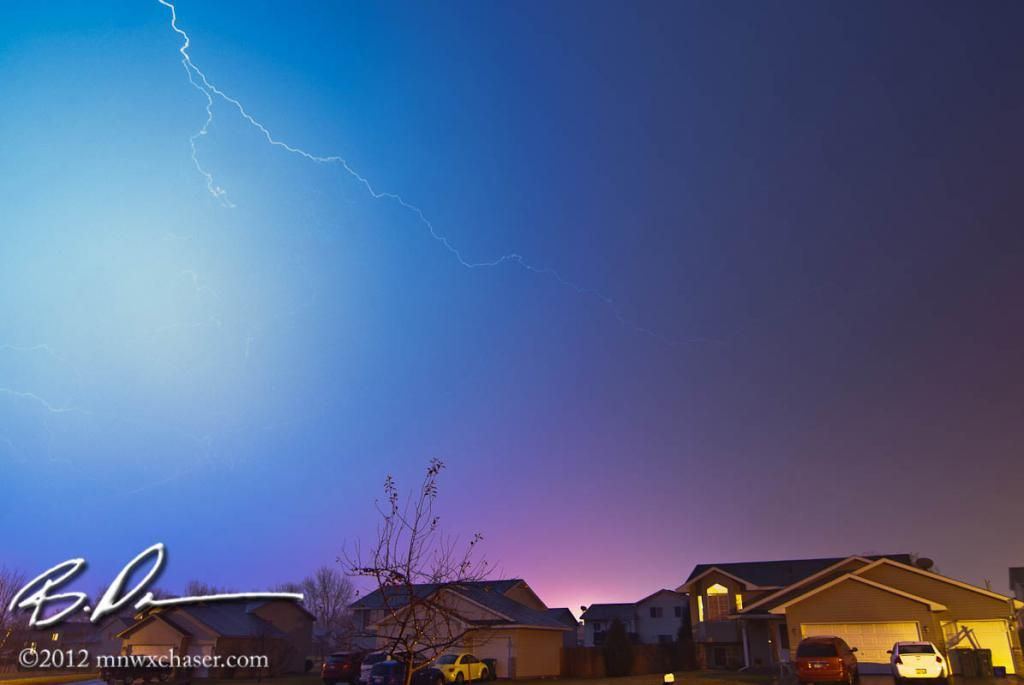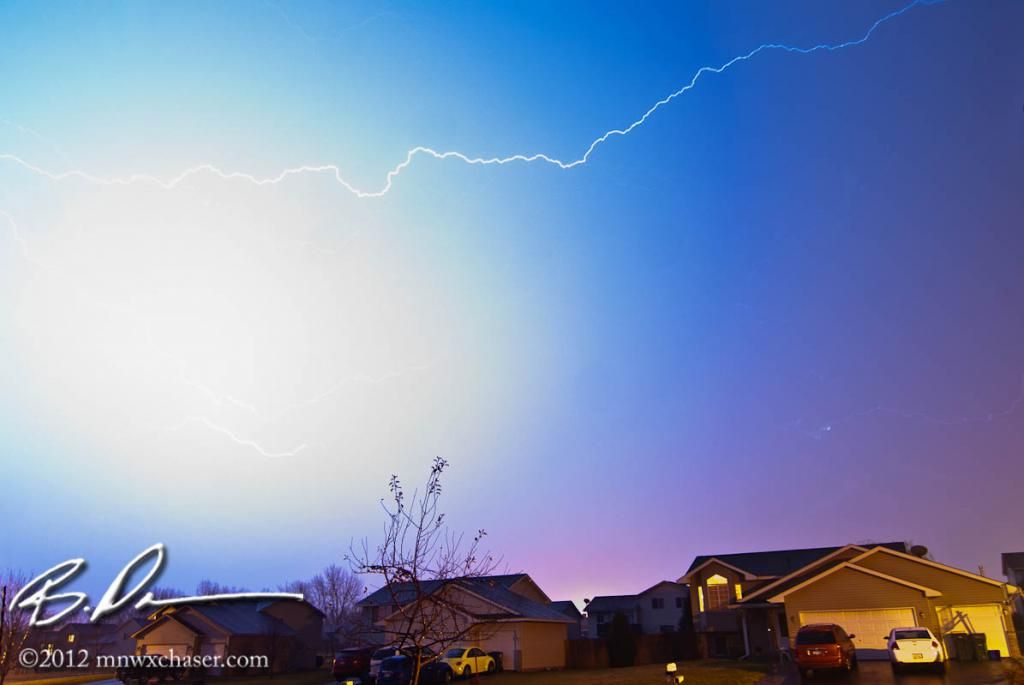 I was having exposure issues. My usual sweet spot settings for shooting lightning in town were not working so I evidently overcompensated by going to a wide open f2.8. Regardless, hearing thunder and seeing the lightning flash for what was likely the last time this year was openly welcomed.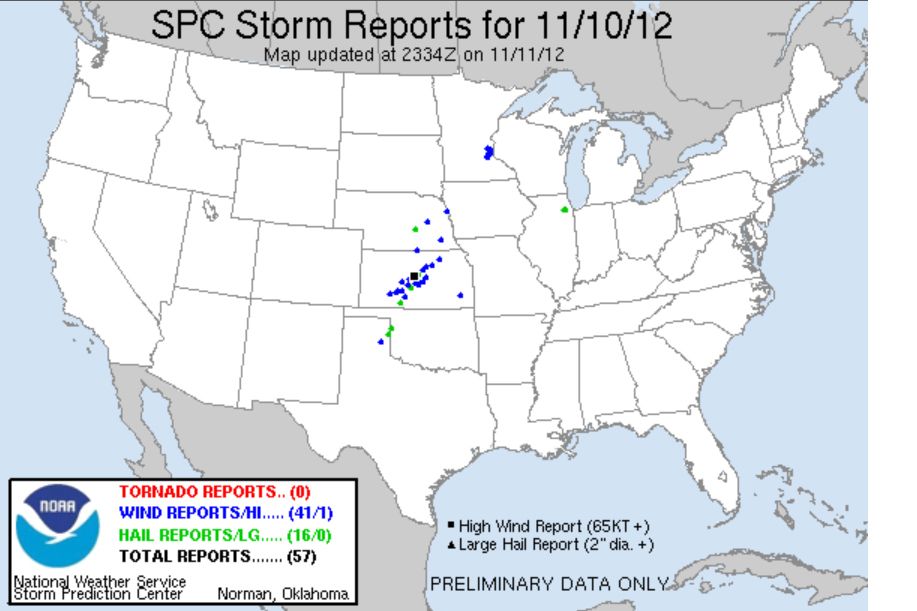 While we didn't have much for wind (and no hail) at our house in central MN, to the east of me in the metro there was a pretty concentrated area of wind damage. I heard MPX may look into the damage pattern a little closer. Either way, the battle of the seasons continues for us with winter gaining a little more ground with each passing cold front.
Saturday afternoon in the wake of the warm front did get out shooting for an hour or so close to the house.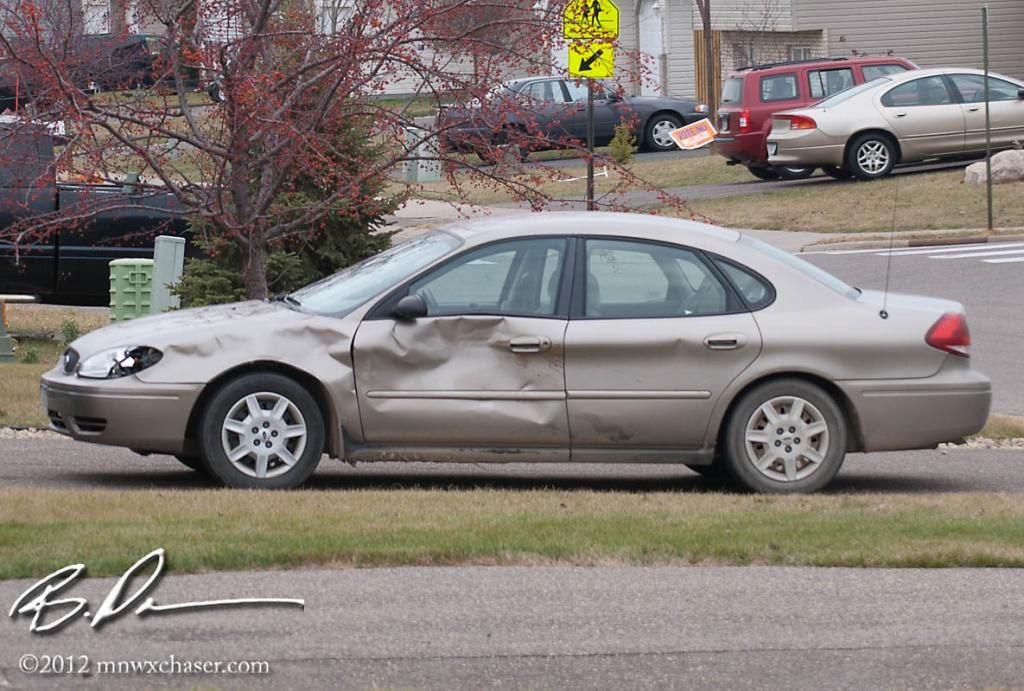 My neighbor, Brent, got a deer. Too bad it was with his car. Note the convenient deer gut deposit right on the driver's door handle. Thankfully he was not injured. Even more reason to love your local deer hunters. Decreasing the odds of collisions by keeping the herd numbers in check.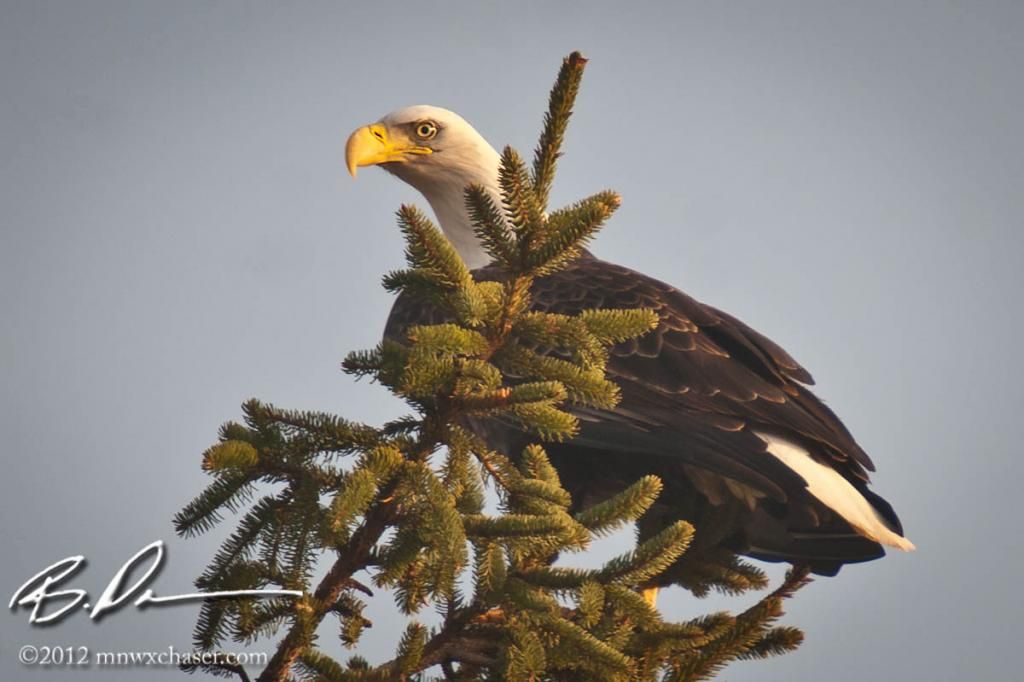 A beautiful eagle near Sugar Lake. Weird how they will sit on the tops of pine trees sometimes.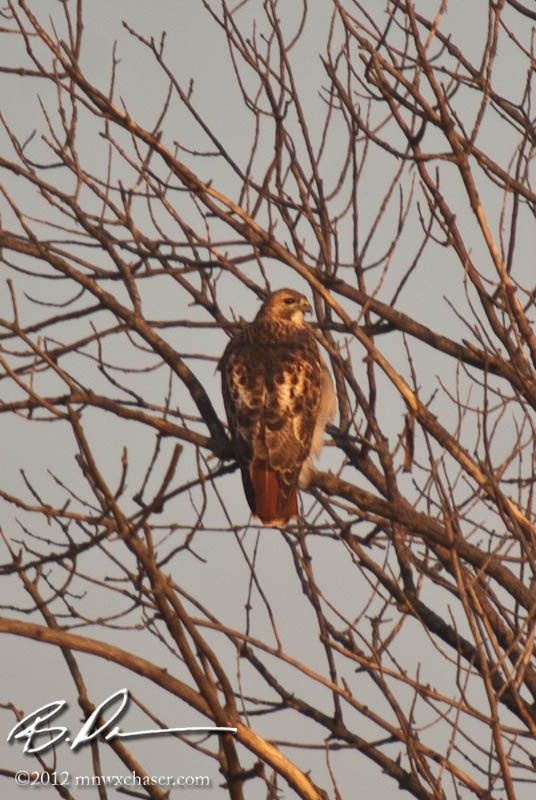 A red tail hawk near the house. This thing is HUGE. Probably the largest red tail I have ever seen. If the species standard is 18 to 26 inches in length with a wingspan up to 57 inches, this bird is 28" with a 60" wingspan. I have handled quite a few large red tails in my duties with the U of MN's Raptor Center but nothing like this. I wish there was some way to reference it's size in a photo.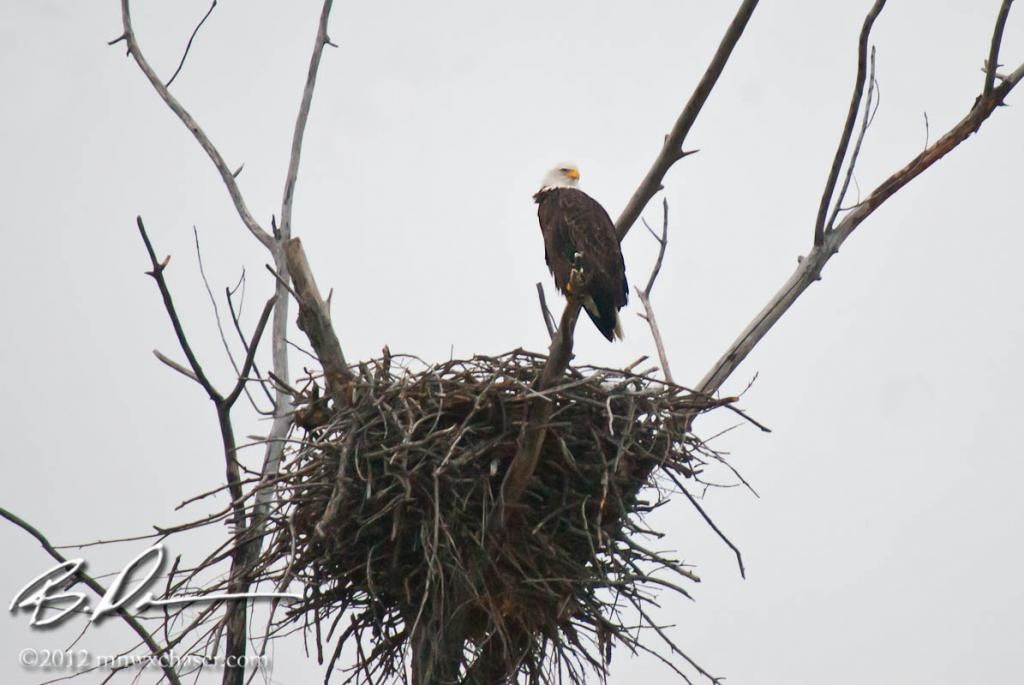 Sunday was a lot quieter. The cold north wind and a thick cloud cover kept me hunkered down watching old chase videos and snacking on some of my favorite foods. Cullen and I did make it out for a bit. 2 red tail hawks (including godzillahawk again), 1 rough legged hawk, and two eagles where all we could muster.
This week looks pretty quiet weather-wise. I have some commitments later this week but maybe the schedule will work out such I can get out in the field a little. One can always hope!