OK...Dave and Kristen went through with it. Yep, July 19 2008, Mr. and Mrs. David Drufke. Dave is one of only 2 people I really like to chase with. We met at a chaser party a few years ago and a friendship quickly followed. As most of you know, a chase partner can end up being a great experience or a total disaster with many squabbles and long miles. Dave and I quickly realized we thought a lot a like and on chase days everything always went smoothly plus we had a lot of fun. I taught him a lot about forecasting and he taught me a lot about photography. We always seemed to have some type of success or at least a great story to tell after hitting the road.
A couple of years went by with both of us having some ups and downs in our lives outside of storm chasing. When he told me he had met a girl he was really interested in on the internet, I was like "oh crap", this can't be good. Long story short is they dated for a while and I was having a bonfire one night at my house so he brought her over to meet some of our other dysfunctional friends. After watching Dave and Kristen for just a couple of hours, I could tell the really clicked. Over the next couple of years, seeing them together you could just tell by the way they looked at each other their love was very real and very genuine. They each made the other a better person and are really supportive...a true love story in every sense.
So, Dave and Kristen have since started their own wedding photography business. Working in their own wedding during the busy season was going to be a challenge but they pulled it off. When Dave asked me if I would be one of his groomsmen, I didn't even have to think about it. This was the least I could do for one of the few people I really consider to be a friend. He also asked if Cullen would shoot the video for the wedding (of which Cullen agreed to right away of course).
The day of the wedding. In true storm chaser fashion, a tornado watch was issued for the area where the wedding was being held (on a riverboat in St Paul , MN). Tornado warned cells were just to the north and east as we waited for the storms to pass so we could board the boat and start the festivities. I jokingly warned Dave about God tending to put me in the right place at the right time and once again it looked like more cells were going to fire just to the west. I said a little prayer asking God not to send the storms looking for me this day and as a outflow boundary passed overhead, the wind shifted to the north as the cold front killing the new development. The skies soon cleared and we enjoyed a beautiful evening on the river to celebrate Dave and Kristen's new life.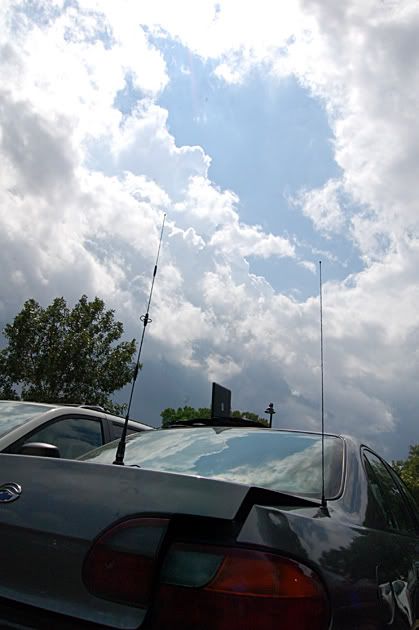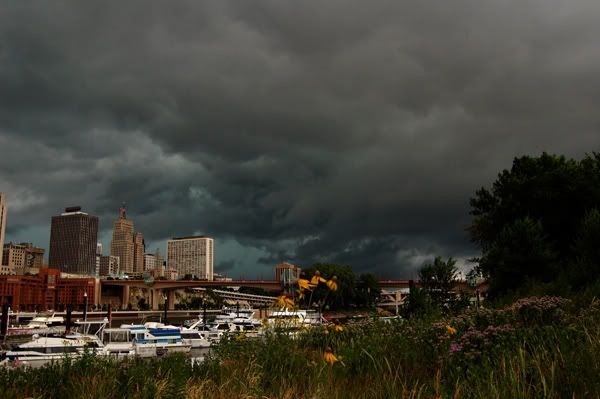 Dave's chasing days are not over just because he is now married. Kristen has seen 8 tornadoes in 2 chases and captured one of the the best daytime lightning shots I have seen in long time.
She thinks it is easy...
Congrats Dave and Kristen!
Dave and I at the rehearsal dinner
Melinda and I hanging out at the reception
Melinda looking great as usual. Me screwing around as usual.
4 gainfully unemployed victims of the system showing off their Brazilian waxes they got earlier in the day....right after they filled out a job application I'm sure.
Melinda and Cullen
Cullen and I. Not sure which girl was yelling at him in this pic.