First item, if anyone can identify this person, please email me at bill@mnwxchaser.com
Second item...I will be writing a letter to the Sherburne National Wildlife Refuge Manager and also the the USFWS Midwest Regional Office.
Third item...I don't care if you have taken one picture or "thousands" and are a volunteer at the refuge, what kind of message are your sending to John Q Public by blatantly disregarding the rules? I used to work for the USFWS and am quite aware of what the notion of "public perception" is all about! How dare you come to my front door and leave an anonymous note and picture (is that supposed to instill some type of "official status"???) complaining about you can't get the photo off the Friend of the Sherburne Facebook page!! Why?? Are you concerned about your reputation as a volunteer?? Or I caught you red-handed not representing the refuge staff in a positive way???
Oh yeah, if you were taking panoramas of the sunset, according to the metadata on the RAW file from my camera, the incriminating photo was taking at 10:53 AM May 9th 2010, would you like to explain why the sun is at your back and all the shadows are pointing WEST???? Wow...guess I'm dealing with a real rocket scientist here.
Here is the note and photo left stuffed in the front door of my house:
I blacked out the face as this is not my photo but is still being used for editorial purposes as are all posts in this blog.
And the note: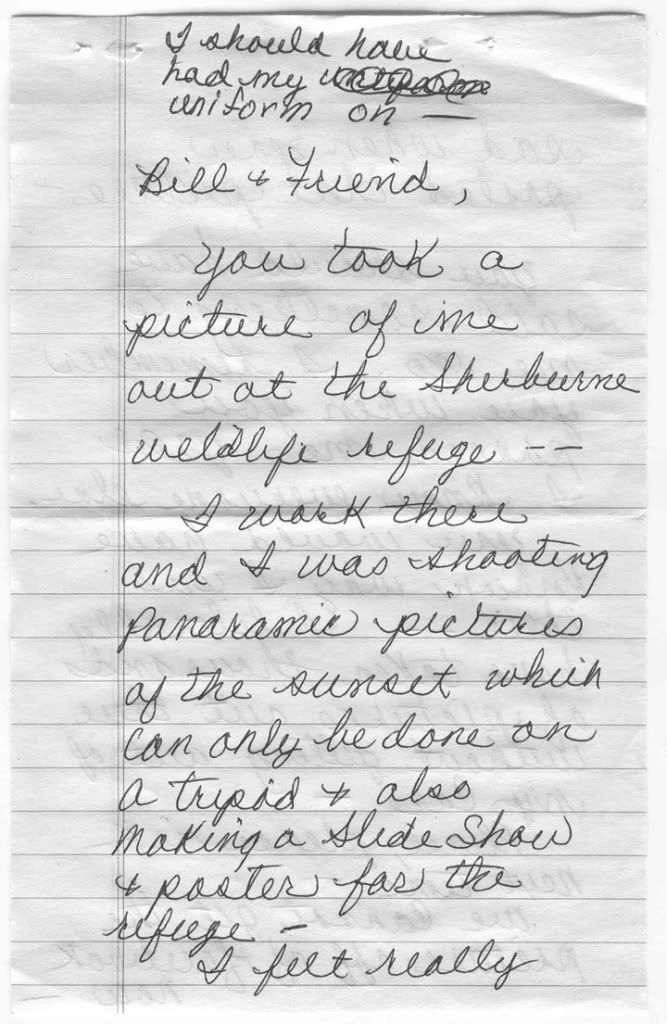 And lastly what set this person off:
Stop by again....I have no problem stating my opinions and views in person. In the mean time I have some letters to write.