Melinda and I made a short loop near home and met with Eric Whitehill to drop off a chase video with him.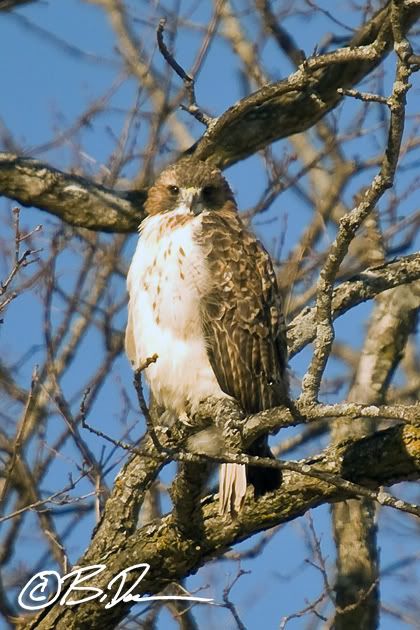 On our way to meet Eric near Hasty, MN, we passed the east side of Lake Maria State Park where this poofed up red tail hawk was trying to keep warm in the arctic air which had settled over the area.
After a brief chat with Eric at the I94 ramp, Melinda and I headed south along the west side of the State Park. LOTS of eagles were in the area this day and all heading south as the ice is really starting to tighten it's grip in our area and points north. This juvenile bald eagle is one of the largest I have ever seen. I wish there was something to reference as a size comparison. It finally took flight as a mature eagle passed overhead. Once in flight, it dwarfed the mature eagle in wing span.
After seeing a few more eagles who were not willing to be photo subjects, we crossed our original path and headed for home. There is one area about 2 miles north of our place which usually has some type of critters passing through. We hadn't seen anything on the first pass earlier in the morning but Melinda was sure she had seen a deer pass just over a slight hill. Once we got to the spot, 4 does busted out of a thicket along with a pretty nice buck. As we watched them cross the snow covered fields, a second (and much larger buck) suddenly came out of the thicket and wasted little time in catching up with the original 5.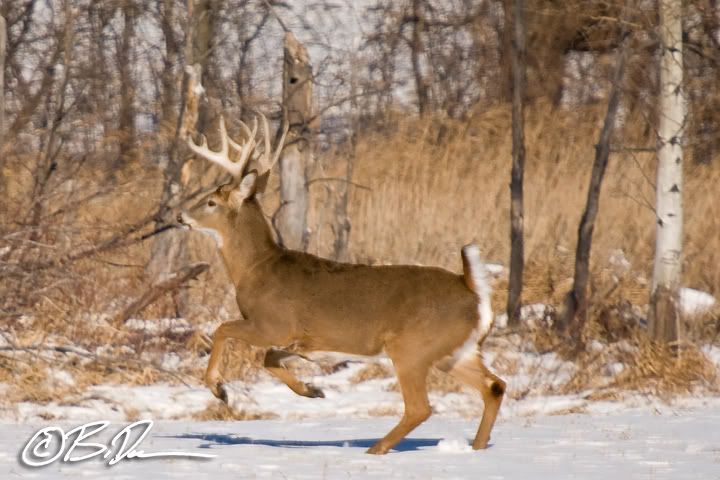 Sure was a great way for us to wrap up our morning run to meet up with Eric.
While Melinda was working on some stuff around the house. I made a short run to hike some of the Crow River near sunset in search of a coyote or owl. Both avoided me but I tell you what, I can't recall ever seeing the river this high at this time of the year. I think we are screwed if we get a snowy winter or heavy rains next spring. One shot of the post-sunset twilight over the recently formed ice.