I was still living up in Fergus Falls the winter of 96-97.
Yup, got 117" of snow that year.
Breckenridge/Whapeton, Fargo/Moorhead, and Grand Forks/East Grand Forks were decimated that spring when it melted. If this trend of Mother Nature pounding Minnesota in 2010 continues into 2011 with the snowfall, it is quite possible we could see devastating flooding in communities such as Mankato, Shakopee, and even St Paul. Time will tell. The only thing which could possibly add insult to injury is if we can have another February 2, 1996. Did it snow that day? Heck no. Can't have cloud cover and watch the morning temp bottom out at a nasty -60°F (Tower, MN). At our place, it was -52°. Not a record, but cold even by my standards!
On to better things for now.
David Drufke
, his wife
Kristen
, and myself made a day trip down to Alma, WI on December 19th to check out the wintering eagles below lock and dam #4. I usually try to make there a couple of times each winter before the harsh cold of mid winter drives the birds further south into Iowa/Illinois and sometimes even further south. Alma is a fun place to watch the eagles but is a very fickle place for photography as the light is never quite right. It comes up from behind a bluff mid morning and with the super short days, it stays low in the sky and before you know it, the light is almost in your face again be early afternoon. Although far from being a great day, I did a few blog-worthy shots to share.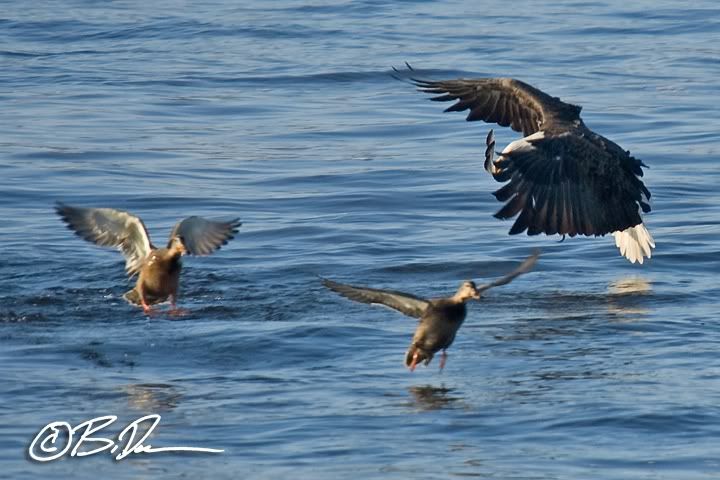 If I were a duck, I would find someplace a long way from where the gizzard shad were. Knowing the eagle behind me "might" be going after a fish would not be enough comfort.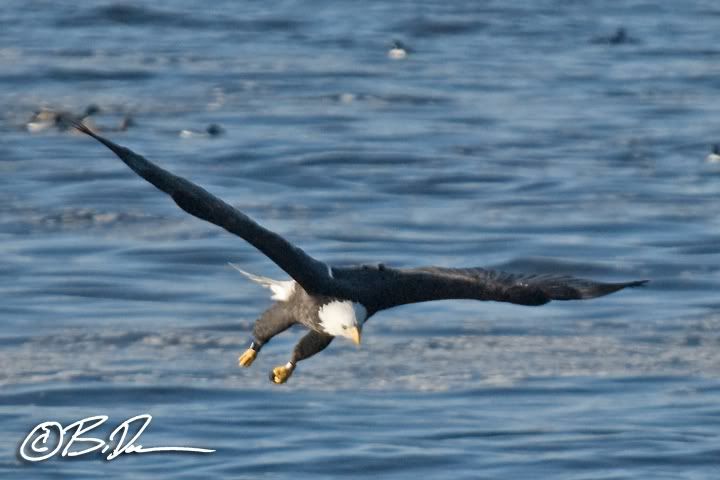 This guy is special. Notice he is double banded for research.
A few youngsters were also in the crowd taking advantage of the plentiful food source. The ducks better hope the menu doesn't change any time soon.
Another example of the screwy light at Alma.
And a couple of normal shots to wrap up this entry. I would like to touch base on the snow topic once more though in parting. Anyone in Minnesota who needs to go to Red Wing anytime soon should take highway 50 east from Hampton. The snow drifts are VERY impressive as there a many spots where rotary plows needed to cut through drifts as tall as 8 feet to reopen the road. Good stuff!!!