Crap. I've gotten so far behind on stuff. No details, just the meat.

April 14th was a mess. The plan was to play the warm front as it lifted into central Nebraska as the dryline surged in from the west. Too bad neither happened. Got on two tornado warned cells out near North Platte but both quickly cross the warm front into cool (I'll go as far as calling in cold) air. Dirty and filled with scud. Never even took a camera out of the bag. Called the day DOA and headed back east on I80. Briefly stopped near Kearney to look at the remains of the supercell which produced the weak tornado near Holdrege (see above). I felt obligated to at least take a photo...so I took 4 and made a pano. Nothing like an 8 hour drive home for this. The first time in my life I didn't score a tornado on a high risk day. In hind sight I could have made the KS target in time...but sometimes scoring the oddball instead of the obvious is more rewarding. Win some. Loose some. I lost. After 3 hours of sleep Sunday morning, I was back out the door to give the same low another chance. The warm front was well established again was sitting about an hour south of my home. The low was near FSD and would ride right along the boundary. Once again storm motions would suck as they would fire in the warm sector and cross into the cold air to the north. Speed would also be an issue with the storms rocketing along at 40-50 mph riding the powers H5 wind fields. I met up with my long time chase partner, David Drufke, and his wife Kristen in Belle Plain with a target somewhere around St. James, MN just on the warm side of the boundary. Didn't have to wait too long before a storm fired within a few miles of the target.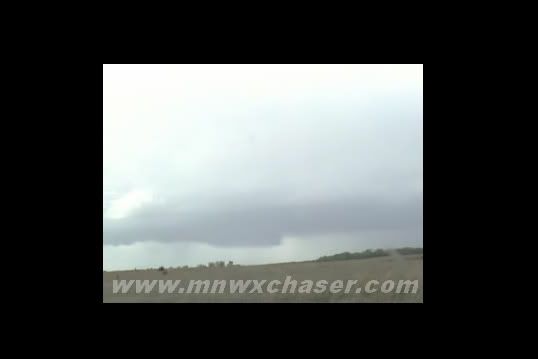 OK...I know a lot of people read my blog for the cool images I *usually* come up with somehow. These two days very little, if anything, had the "wow" factor. These images were pulled off my live stream archived video from imap.tv and tornadovideos.net The first image shows a nice lowering under our target storm near St. James. We followed the storm north to highway 212 where it went tornado warned, crossed the warm front, and puked into a scuddy mess just like Saturday.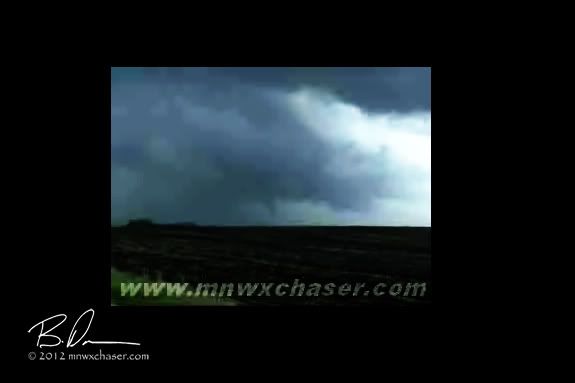 The video frame has been highly adjusted for contrast and clarity. I am 99% sure this this is in fact the Brownton, MN tornado reported by the rest of the F5Tours crew. View is looking northeast from Fernando, MN at the time of Andrew Revering's report. This was off the second cell which went tornadic just as it crossed the warm front. David, Kristen, and myself saw another white ropey funnel near New Auburn, MN. I have this one the video file also and will post it here at a later time as an update. As we raced to get ahead of the cell just east of Glencoe, some small hail hit us as an area of rapid rotation was just south of us and rapidly approaching. Had to scurry east but it never produced as it crossed the warm front.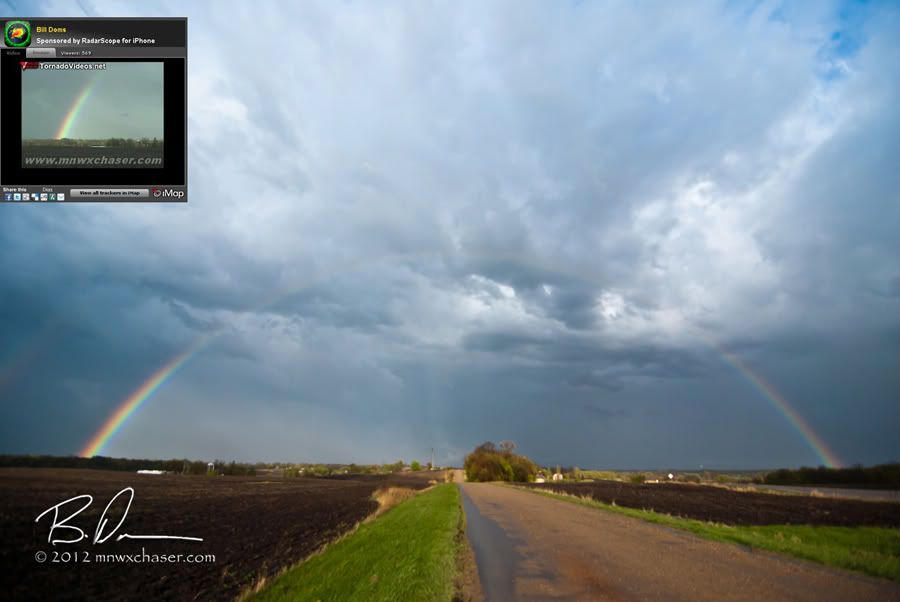 Limped along to the eastto Cologne, MN where David and I called it a day with him heading home to Lakeville and me heading north 40 miles home (sure beats the drive back from North Platte). I stopped just outside of Watertown, MN to take a couple shots of a nice rainbow. Todd Schnieder from Minneapolis was nice enough to send me a screen grab of how it looked on the TVN stream. All in all I was pretty disappointed in the weekend. My targeting was on, but the storms all looked like crap. It was nice to get the first tornado out of the way but I wish I had a bunch of nice pics to share. Hopefully this isn't a trend starting for me for 2012.