Not the greatest show, but not bad. Sometimes having a real job cuts into my ability to play all night...waiting for the inevitable spike in activity in the middle of the night.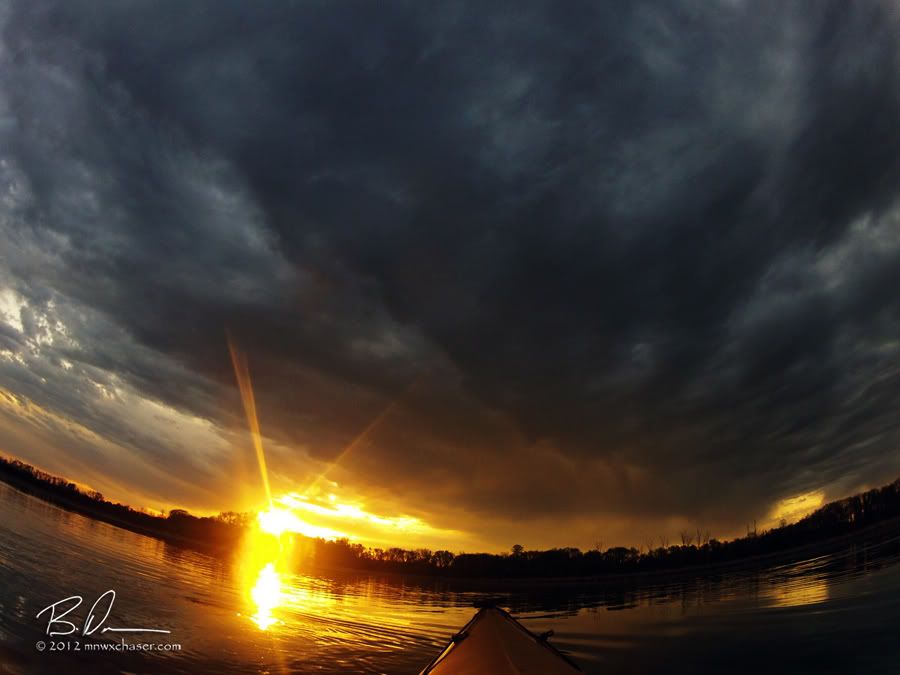 The evening began with a paddle in the 'yak looking for a pair of otters I had seen earlier this spring. The otters were nowhere to be found but the sunset made up for it! A little after I had gotten home after dark and put the gear away, my friend Steve Yezek from Grafton, IA called and asked if I could see the aurora. I was like "WTH?", it's mostly cloudy here. As I chatted with Steve I rounded the corner of the garage and could see a very obvious silver band high in the sky stretching from horizon to horizon as we had a break in the clouds! Tine to go!

My original plan was to head up near Santiago, MN on the northeast corner of the Sherburne NWR about 30 minutes away. I barely got out of town and had to pull over as the band was growing brighter and brighter. Like as in crazy bright.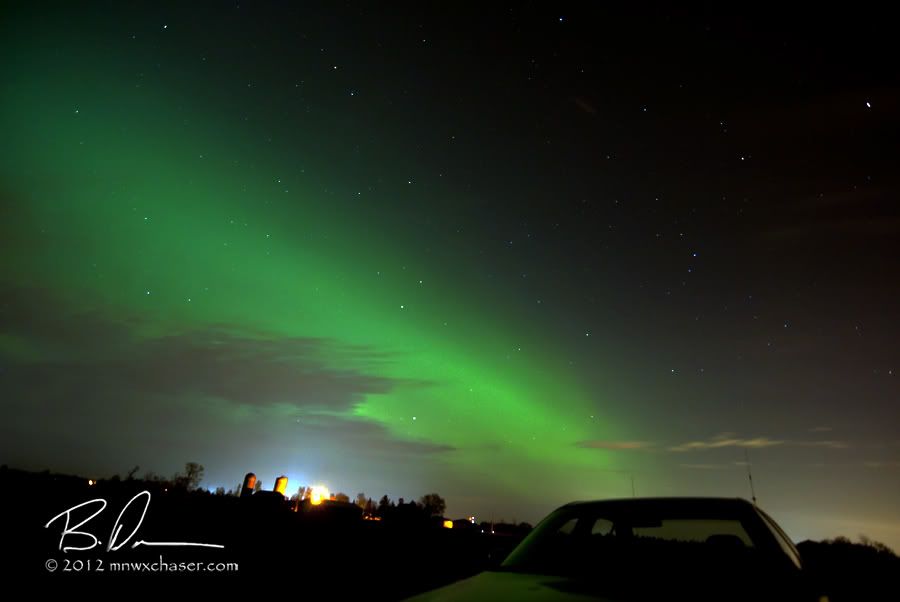 As I watched the car start glowing green also, I kept thinking what an awesome display this would have been had there been snow on the ground or smooth, snow-free ice on the lakes.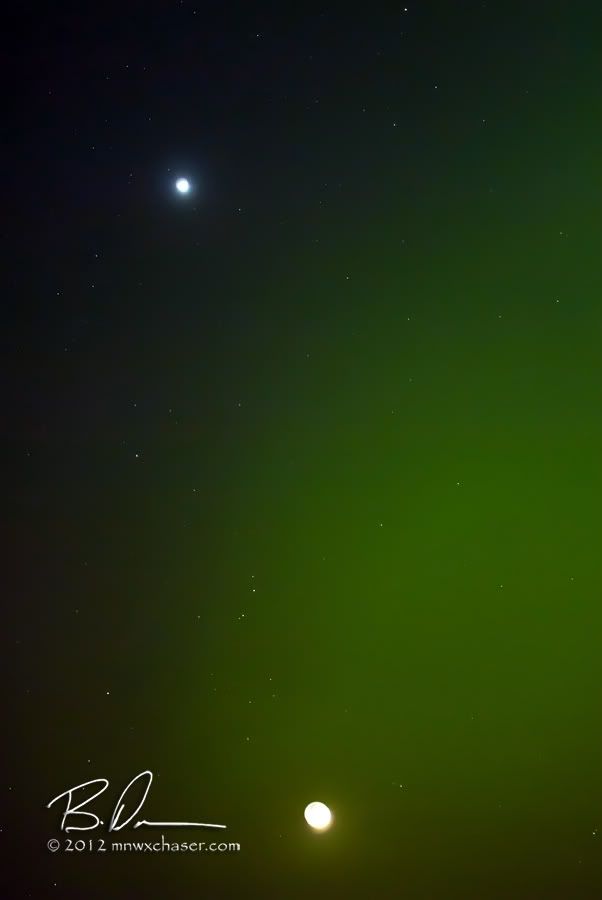 Shot with a 70-200 showing the moon, Venus, and a very obvious green glowing pushing in from the north.

Finally did head up to the Sherburne NWR. Despite the aurora really not doing much, it sure was bright. The entire field in front of me had a soft, green glow to it.
Looking northwest.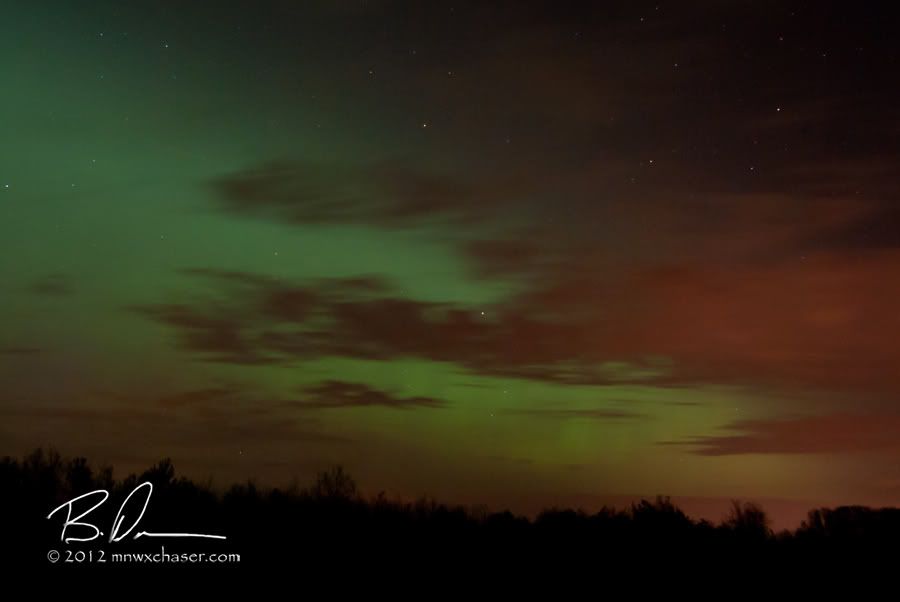 The best stuff was to the northeast as usual, but so were the clouds which was getting to be an issue.
I really wanted one decent shot over a lake before the cloud deck ended the show prematurely so I took a chance and went southwest to Rush Lake.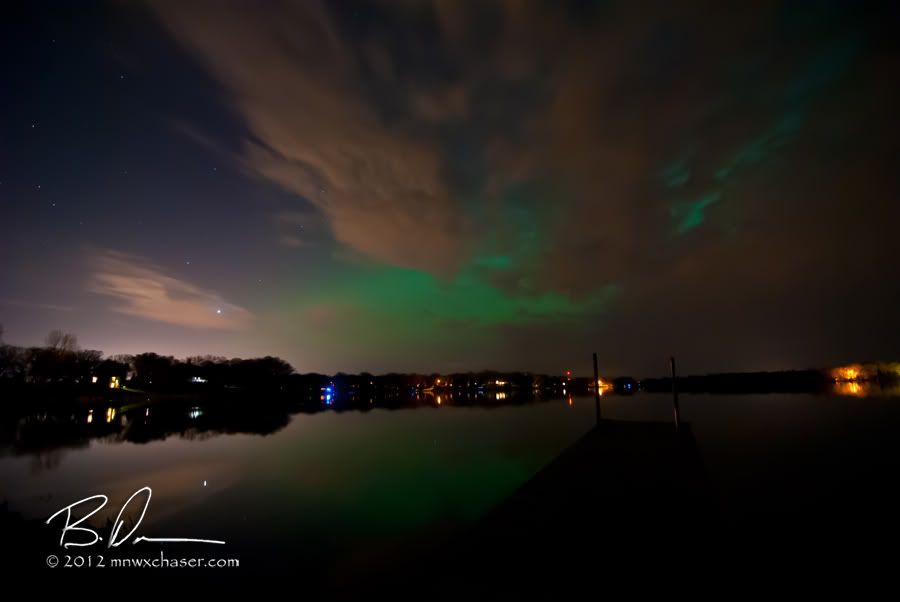 Not exactly what I was hoping for but it was close. Now I need some big time storms to shoot..outlook is pretty bleak for the the northern plains yet. Snow this weekend? Not likely but now impossible either!