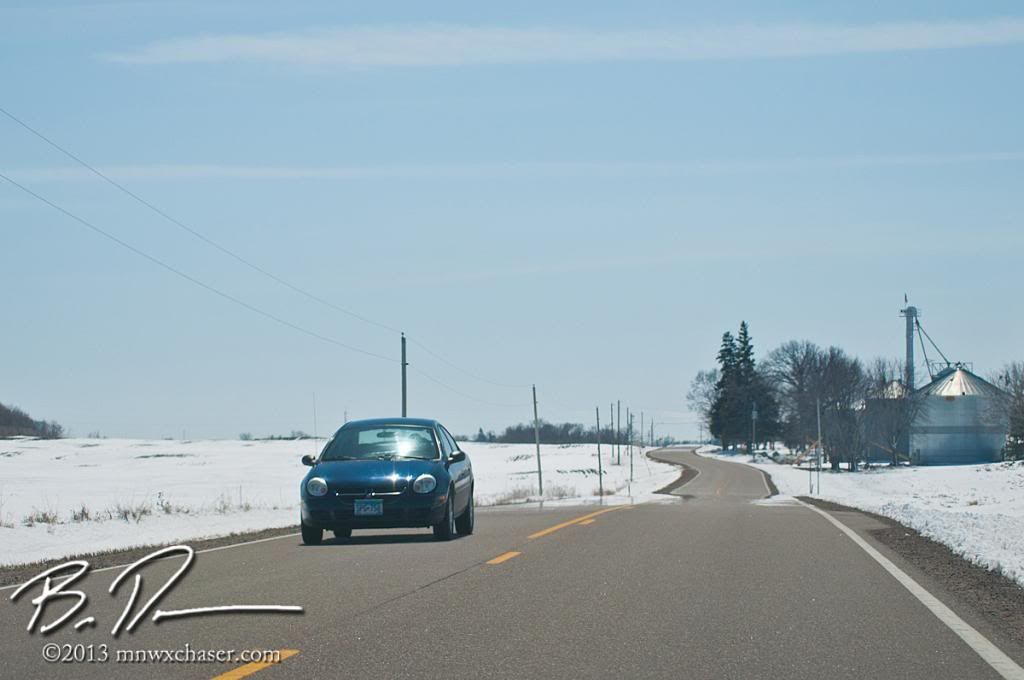 Yeah. It's April 21st. We have some snow to melt yet around here.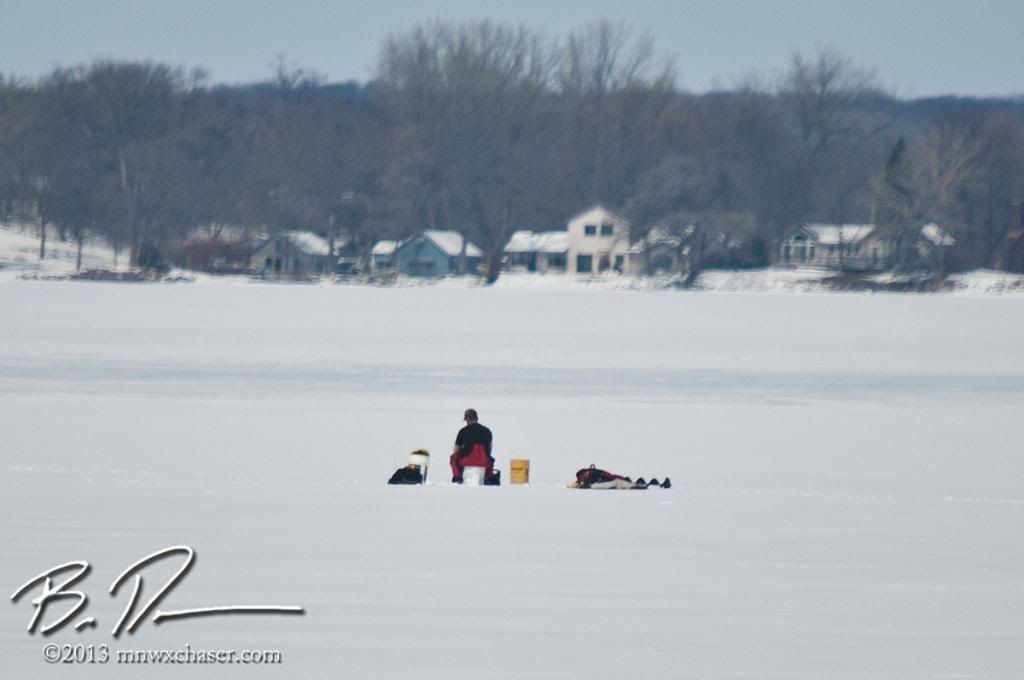 The ice fisherman are not complaining though. With a couple of FEET of ice yet, the open water fishing season opener is really in danger. To protect spawning fish, I wouldn't be surprised to see the DNR delay the opener even if the ice is gone.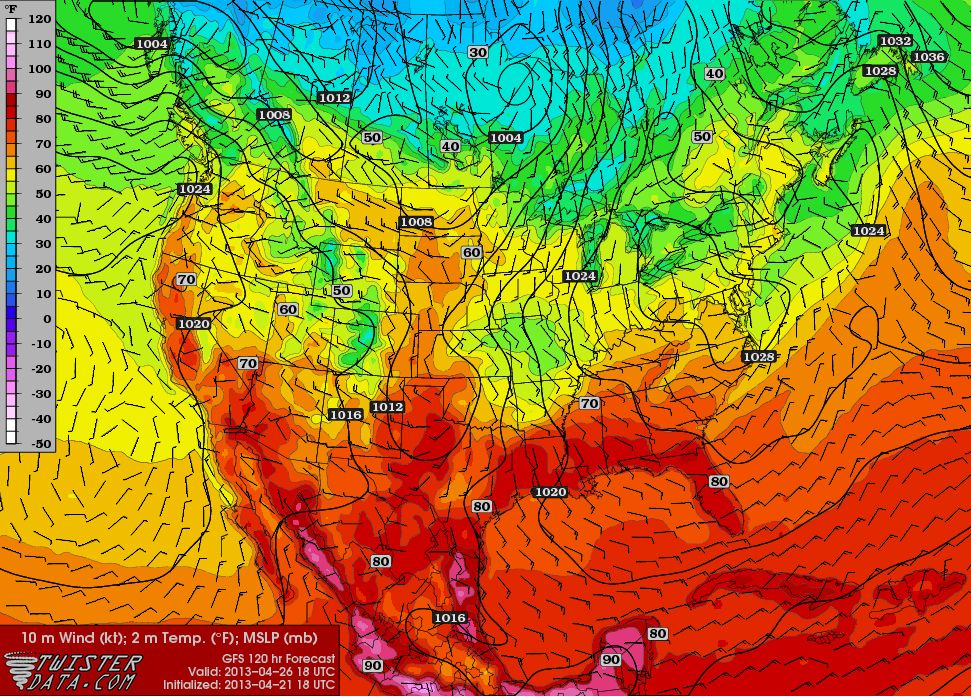 The good news is the long range model have been pretty consistent in finally getting some warmer air up here to release us from the winter which wouldn't end.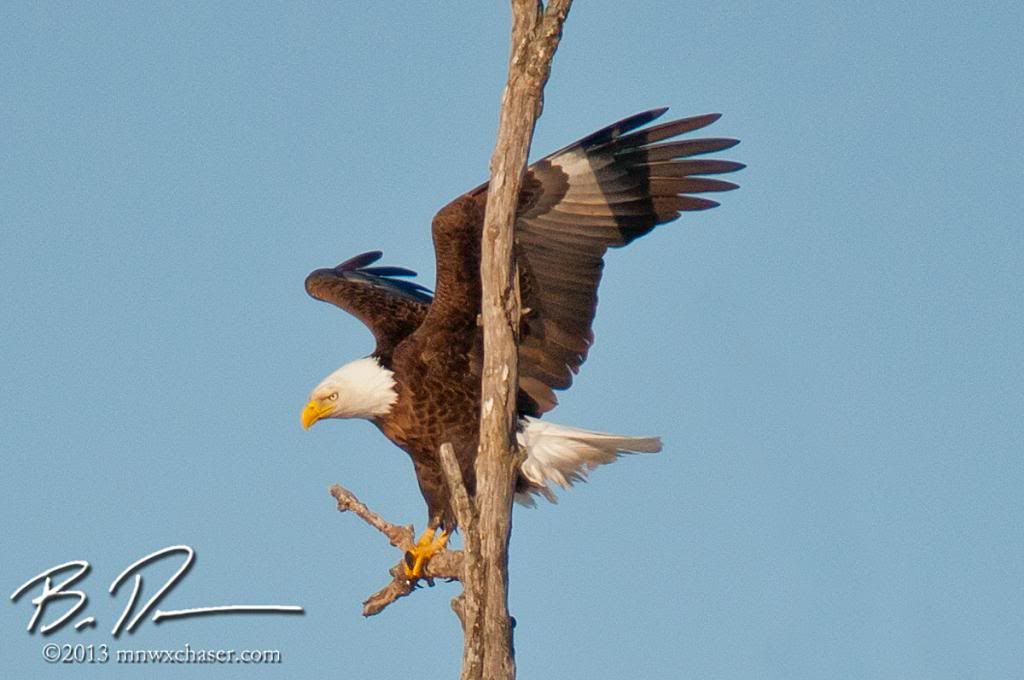 Friday FINALLY gave us some clear skies. With the longer days now, I can still get out to shoot after work and dinner for the golden hour.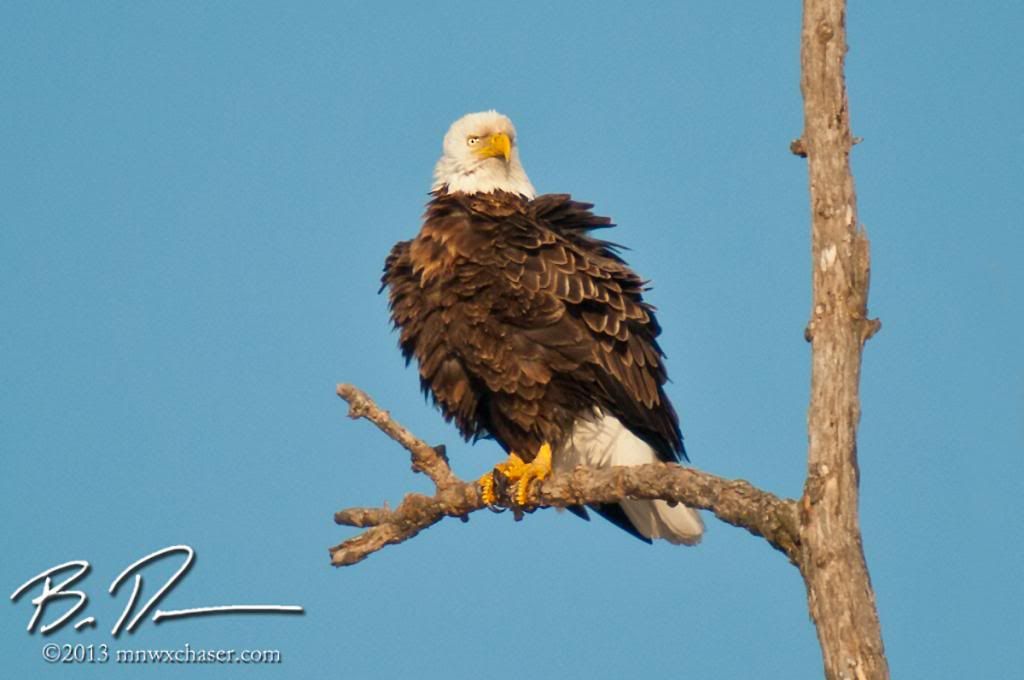 As you can tell by the feathers, it was WINDY!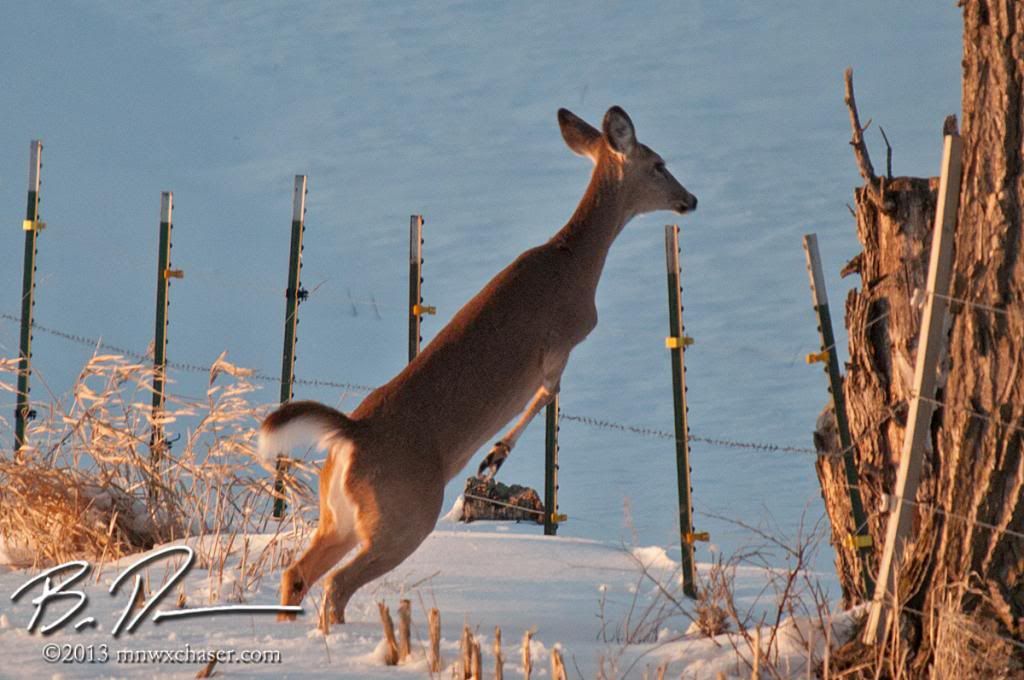 Saw a couple of yearling deer near home which were looking to take a short cut over a 4 wire fence between a corn field and a pasture. It took a minute or two for them to get their confidence up to make the leap.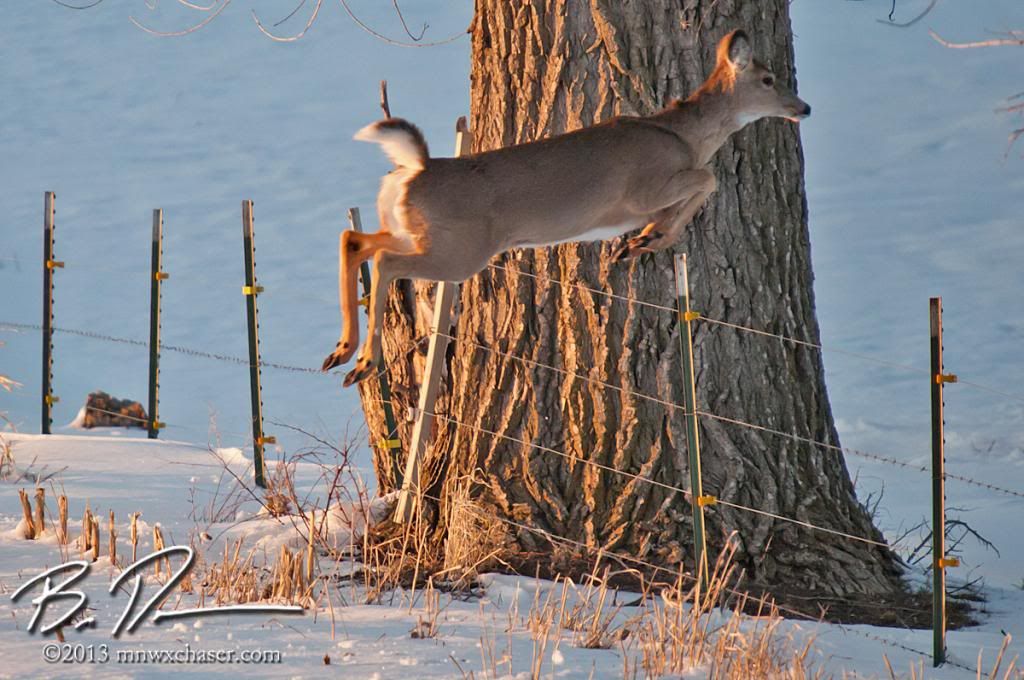 Up, up...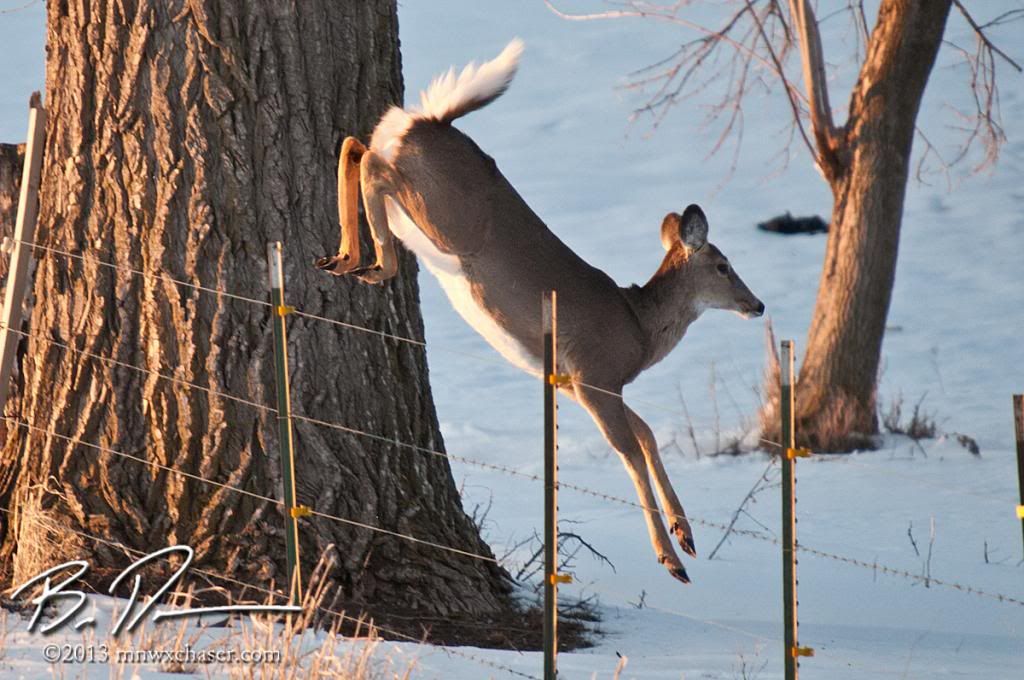 ..and AWAY!
Saturday still had clear skies in the afternoon so I figured it was a good time to go check on a few of the local nests. My son joined me for the afternoon and was the driver. I think I drove him nuts with my "Go forward about six feet...no, go back seven feet" commands to see through the branches. The nest pictured above has raised three eaglets each year for the past 4 years. Hopefully their string can continue. The nest is near Annandale, MN.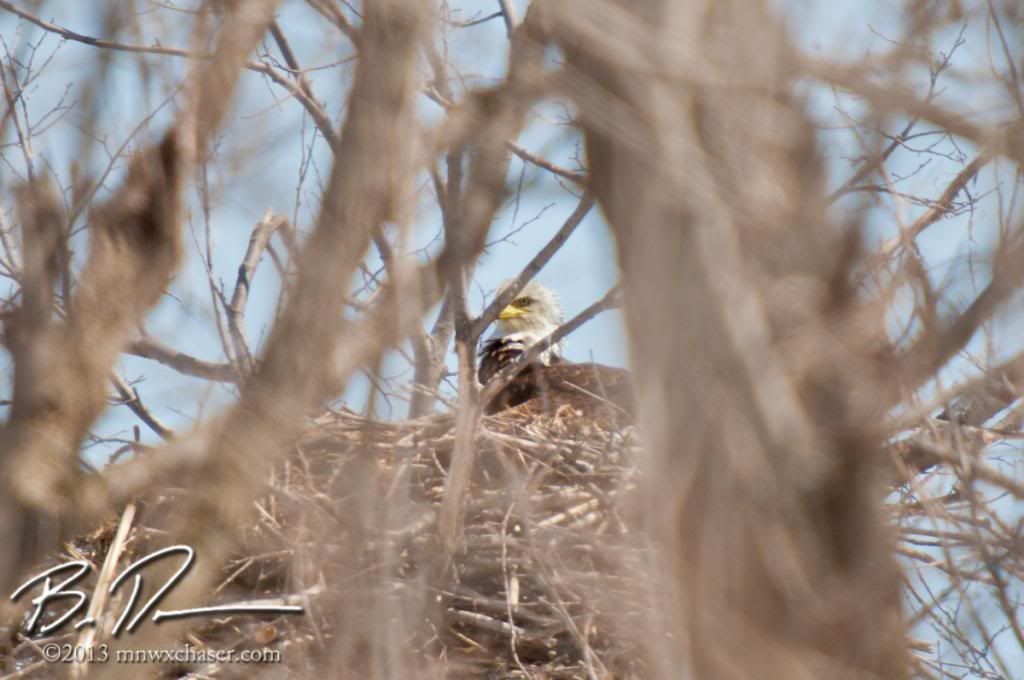 Nest two in Corinna Township in Wright county. This is a relocate from last year. They built a new nest about 50 feet further back in the woods making viewing a lot more difficult.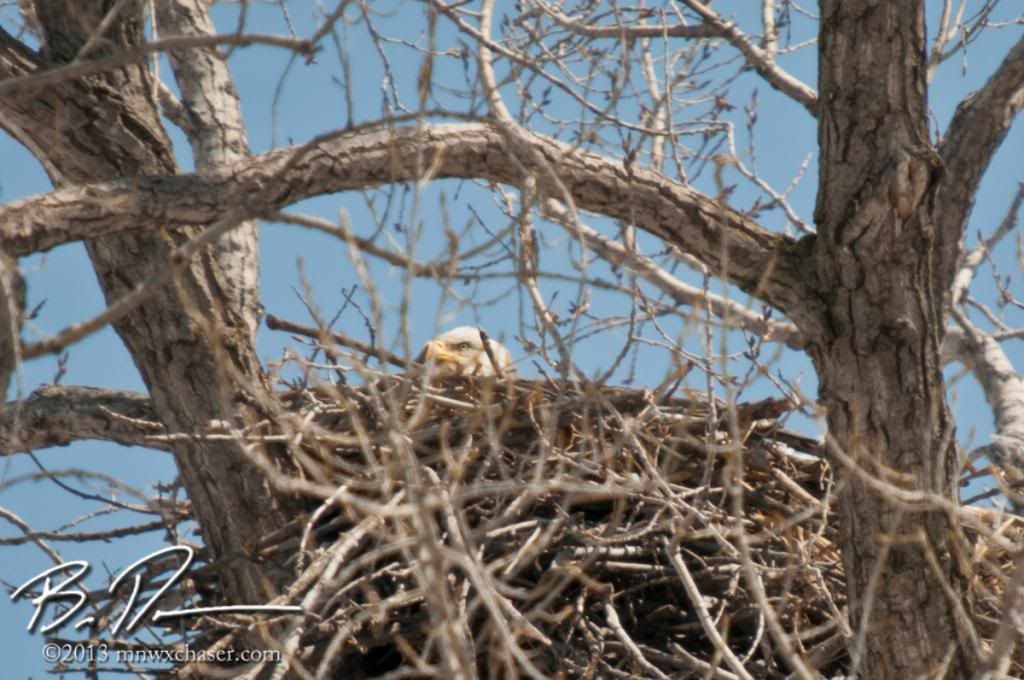 Nest 3. I was glad to see this pair come back. They usually winter here but not this winter. They came back late and nested late. This is likely be the last nest I monitor to hatch their eggs this year. I'll bet they don't have eaglets until the first week of May. We'll see. The nest is located near Maple Lake, MN.
Nest 4 in Silver Creek Township has eagles on it and they are doing well. Somehow I managed to screw up three shots I took so nothing to show for that one.
Nest 5 in Buffalo Township is a huge disappointment...again. I consider this pair my "local" birds. This pair has something go wrong every year it seems. 3 years ago both of their eaglets were electrocuted on an uninsulated line at a transformer near their nest after they fledged in July. 2 years ago one of the worst straight line wind events in year blasted through on July 2nd leveling the tree with the nest and killed both eaglets. Last year on July 3rd both eaglets from this hatch were electrocuted. One survived after myself along with the Popkens' and Beechers' rescued it. It was critically injured but the awesome staff I volunteer with the The Raptor Center at the University of Minnesota were able to rehab the eaglet and release her back to the wild last fall (less one toe). Anyhow, this year they were on eggs early but about 2 weeks ago abandoned the nest and the eggs. My guess is they tried too soon and the winter lasted too long. I have only seen them once since.
On to the ospreys! I hope they brought their own fish with them. It's gonna be a couple of weeks before the lakes open up and being they only eat fish, it's going to be slim pickings for a while.
Nesting platform one is in Corinna township and I did not check it yet. I'm only mentioning it in the event I refer to it in later posts this spring.
There is a LIVE CAM of this nest which can be viewed by clicking HERE.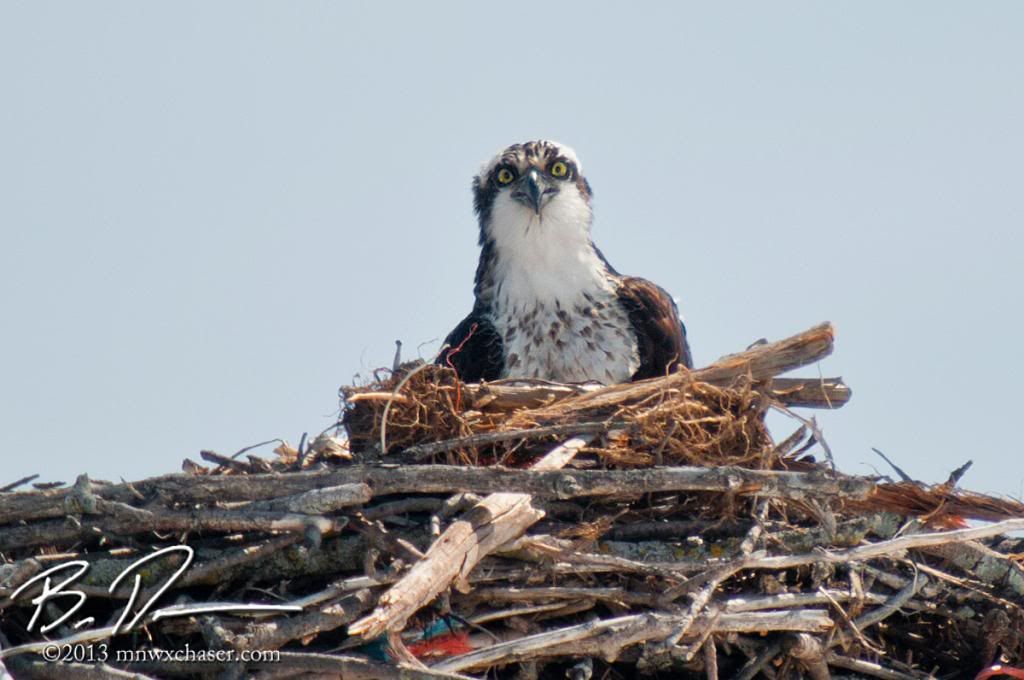 Nesting platform 2 in Clearwater township. This pair is funny as they couldn't care less about people...as long as you stay in your car.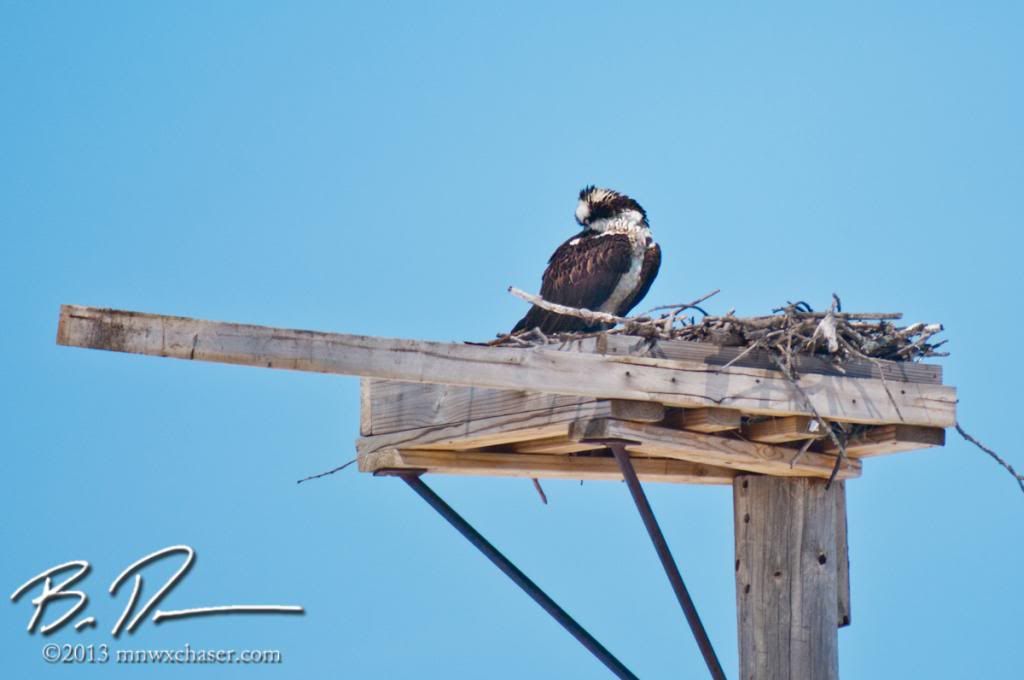 Nesting platform 3 in Silver Creek township. My lens was still giving me issues and I missed the mate taking flight with beautiful outstretched wings. They have some major work to do on their nest yet.
Well, there it is in a nutshell. I feel like I am becoming more of a wildlife watcher and less of a storm chaser. C'mon Mother Nature, throw me a bone so I can get over this identity crisis and get back to doing what I do best. But I need your help.