First off I need to make an announcement. I am stepping back from chasing as being the forefront driving force in my life. I was ready to pull back last year, and the year before. I am SO sick of the B.S. which runs rampant in the chaser community I have decided to pull the plug. There are other facets of my life I would like to concentrate on and would like to know what it feels like not to make life decisions which revolve around whether it is going to rain or not. I few years ago the guy who is a huge inspiration to me in the chasing world finally hit the burn out wall and "retired". I always wondered what it took to get to that point. It didn't make sense to me. Well, after watching more and more idiots come into chasing and spread their own B.S., watching lies be taking for face value, and the ever mounting pressure to live up to some standard which I somehow self-created, enough is enough. I thought this may be a good time to do some mentoring. Not sure on that either as being smothered is not my style. So, this past Friday I made the decision to sever my ties with all commercial entities related to chasing. Will it cost me a few bucks? Yeah, but for the past decade I let myself forget why I chase. After hitting the send button on a bunch of emails, I felt like a weight had been lifted. The pressure immediately left. For the first time in over 10 years I no longer felt as if I had to chase. Maybe the pressure was mostly self-imposed. The pressure to maintain an image. The pressure to produce high quality material. Well, screw it. I'm done. If I chase, it will be because it was convenient and I wanted to...not because I felt like I had to.
Anyhow, here are some images and video frames from "for fun" outings this weekend close to home base.
Saturday had a weak surface low coming out of SD with a subtle warm front draped across western in central MN. My initial target was Glenwood, MN but a couple of cells went up near Wilmar which had me drift west instead of northwest. Those cells puked with the weak shear but new cells fired along and just south of the warm front. After hanging around south of Lake Minnewaska for a bit, one cell just to my north went severe warned as it interacted with the weak boundary. With storm motions only 10-15 mph and being in Starbuck, MN it was easy to head north of Holmes City in Douglas county to take a look at the updraft base.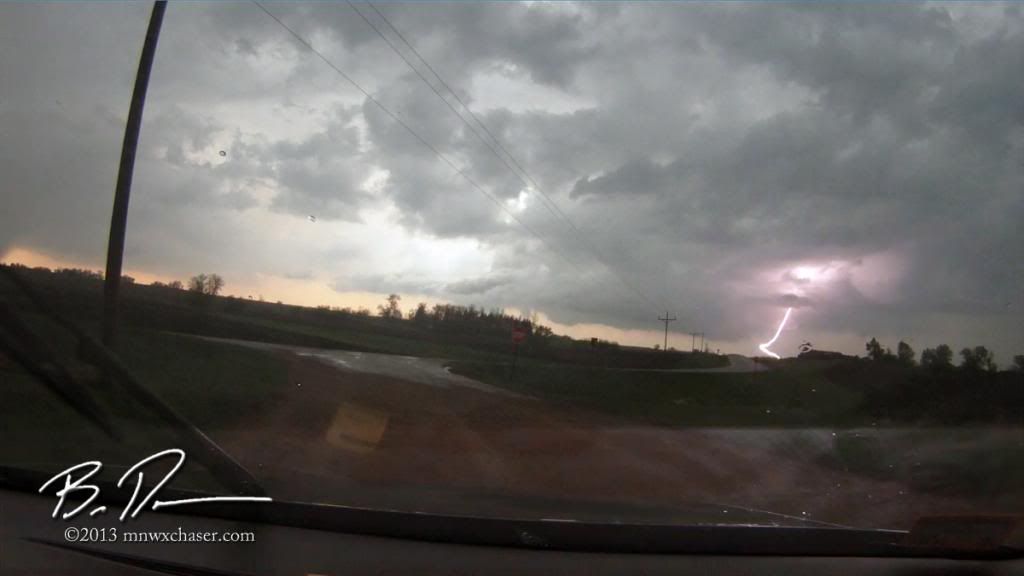 One of the few CG's of the day. Video frame off the
Midland XTC 300
dash camera.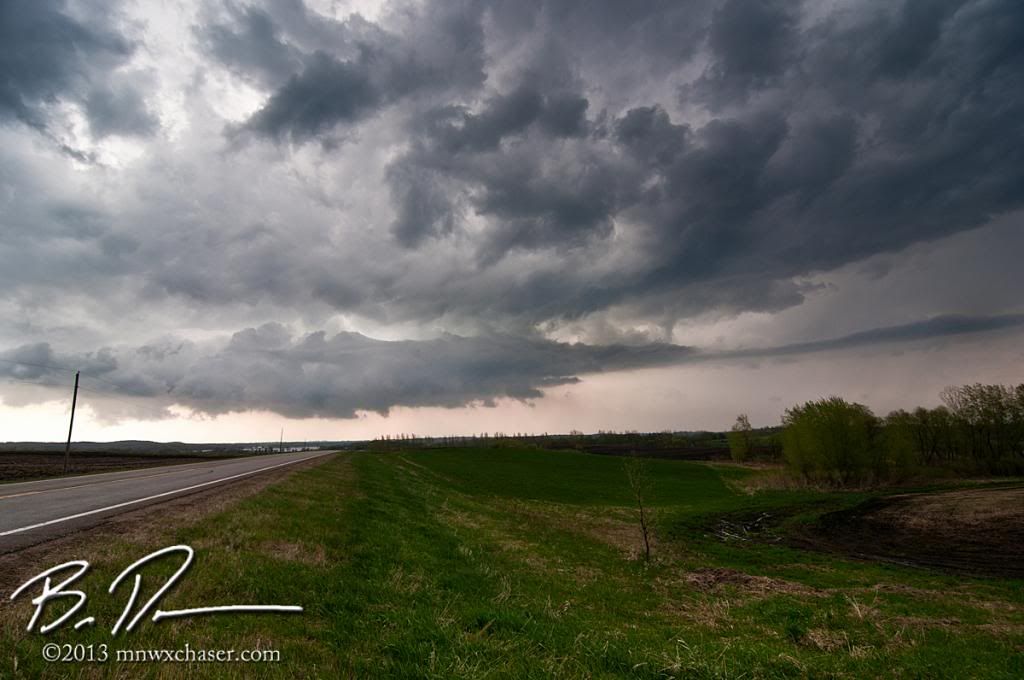 These were not "pretty" supercells by any stretch. They were soft, scuddy, and messy for the most part. There was a funnel cloud reported off this cell but I have my doubts as I saw very little, if any, spin with these storms. Lots of scud getting pulled up as the updrafts would pulse before collapsing with the weak shear. This was taken about 7 miles south of Brandon, MN looking north/northwest.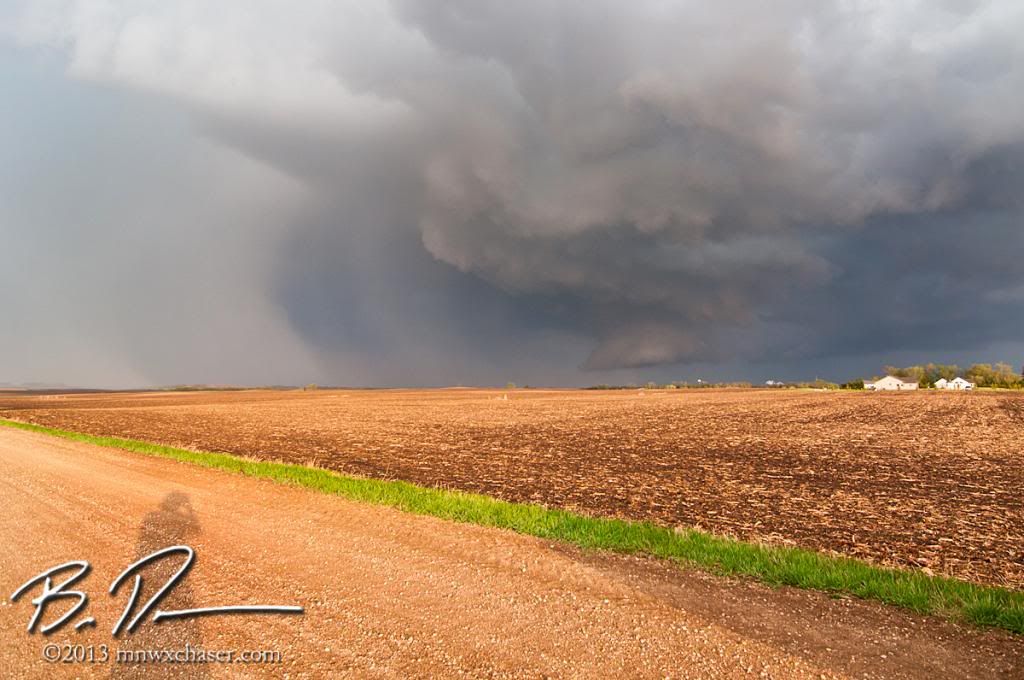 Storm #2. Taken from north of Hoffman, MN in Grant county looking southeast at a nice blocky wall cloud. Kind of cool light with it being clear to the west on a north / northwest moving storm.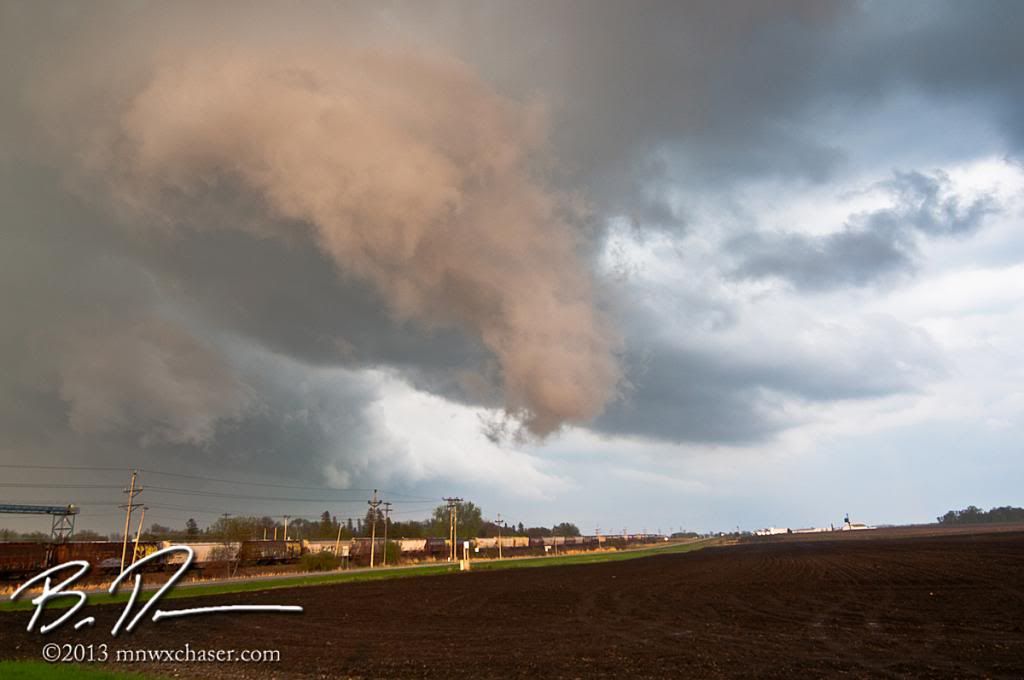 The only thing I saw which did spin...for about 30 seconds. On the south side of Hoffman, MN. Still had the cool light to work with.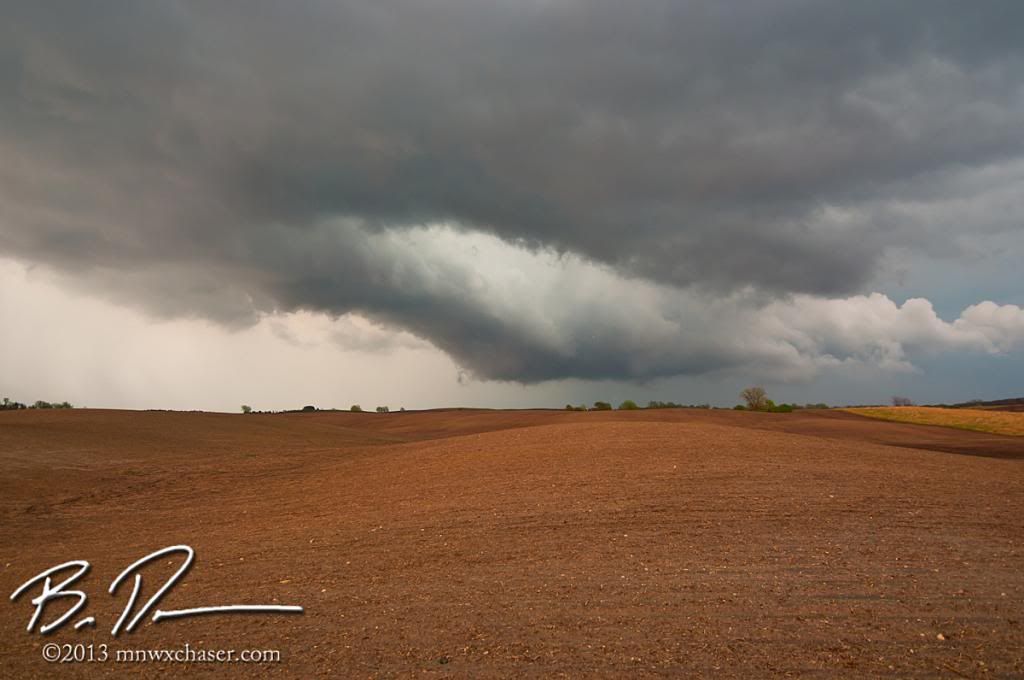 Just east of Hoffman, MN on the last cell of the day. Sick clear slot. This had a nice wall cloud from time to time but it never sustained. Again lots of scary looking scud danglies but nothing remotely tornadic.
Sunday was even a bigger mess with a north moving MCV/vort max flying out of Iowa to the north. The SPC threw up a low end torn box. I was doing errands with the family so got a late start. I broke my "east of 25 rule" and tried to get in front of the arc of storms flying north/north east at 50+ mph. Yeah, not real productive.
The only action area of interest of the day near Northfield, MN.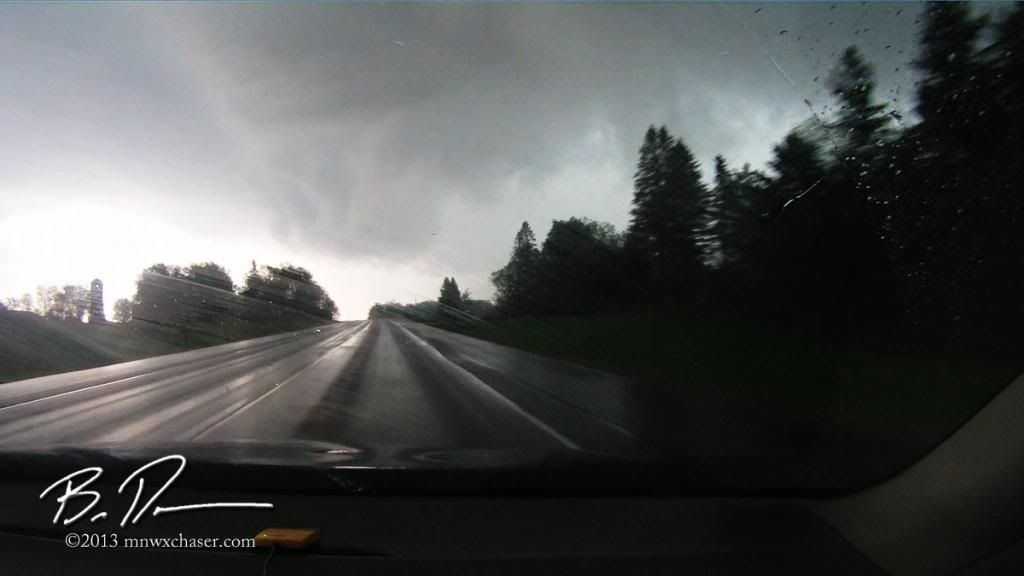 Tried to get east of it as it gusted out. The video is crazy how fast this transitions into a shelf and rockets past us off to the north.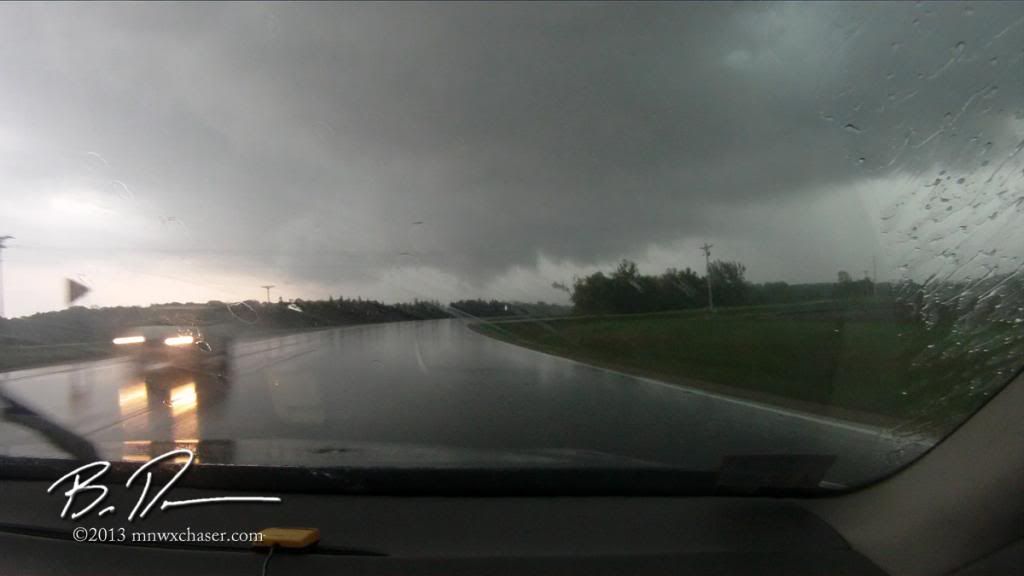 More shelf action as I tried to get east ahead of the arc.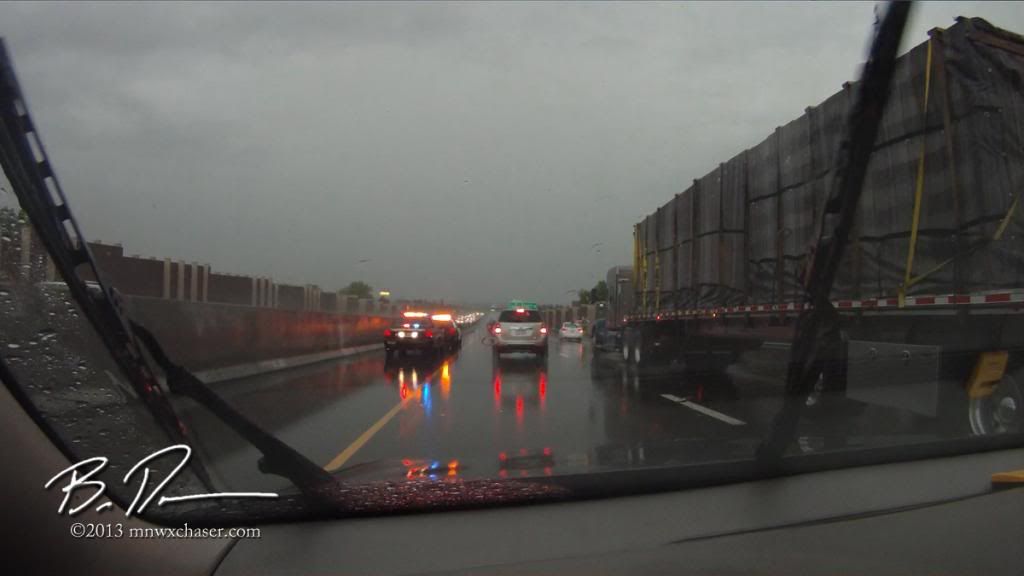 Called off the chase as I was skirting the bluff country west of the Mississippi River and tried to head home through the metro area on the back side of the arc and blinding rain. Someone didn't fare well as an accident left vehicles on both shoulders of I35 on the south side of the metro. A slight delay to the end of a rather disappointing outing.