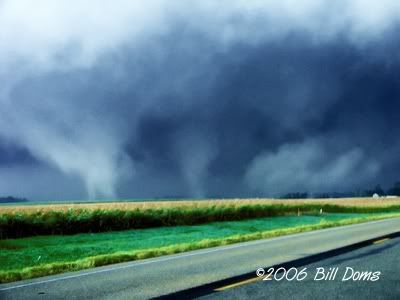 Plan is to hit the road very early Saturday morning and head towards south central NE or north central KS. Still too far out to have a defined target. I am VERY concerned about the capping this day and could be a huge bust. Will keep an eye on the triple point / dryline intersection on one side and the 10C H7 temps on the other. I think anything warmer than 10C is going to be tough to break. The H85's are not as brutal as I expected looking at the 0Z NAM. 15C isn't nuclear with the strong heating this time of year.
EDIT/UPDATE 11PM 6 03 09
Gads capping and weak VV's really look problematic for Saturday now. NAM wants to erode the cap by 0Z near Weatherford OK solely on meeting the convective temp of like a billion degrees (which does have a decent looking hodo) and central KS due to forcing on the dry line (which has a not so great hodo but lots of instability to work with). The area around Lincoln, NE has a good looking hodo but the H7 cap is pretty scary. Will be interesting to see the 0Z GFS as nothing really wants to spit out any precip with the exception of the OK convective temp possibility....or maybe they will all be lp's....right?
Sunday looks like it could be the big play in eastern NE or western IA. Lots of good looking parameters pointing to the I29 corridor between OAX and SUX. This could be the make or break day for the 2009 season.
Monday looks a little quieter but then things get cranking up again in KS on Tuesday (if you want to be a GFS believer).
I'm still not all that excited about chasing alone for the upcoming days but I'll get through it. But then again I doubt it if I will be anything but "alone" on any storm for the next week.