Well the 2009 deer season is in the books so I now consider it to be "winter" here regardless of the awesome warm temps we still are experiencing. Every nice day from here on is shortening up the real winter and is fine by me....c'mon El Nino!
With a half-assed serious attitude, I headed up to the Sherburne National Wildlife Refuge near Princeton, MN today. I have been watching the late season bird counts from Hawk Ridge up in Duluth this past week and it looked like a pretty good push of bald eagles were moving south. A lot of these birds follow the St. Croix river south to the Mississippi but the Hawk Ridge birds would be just a small sample of the total birds also following the Mississippi River itself.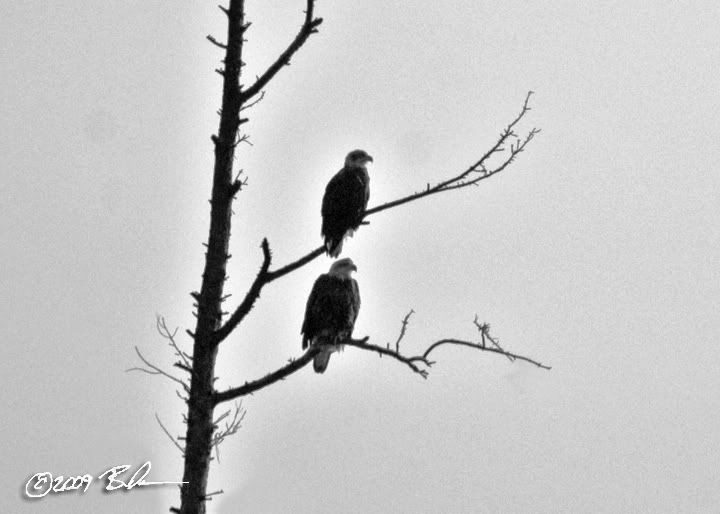 I got started a little later than I was planning but as soon as I got into the refuge, I started seeing eagles. Yes, I realize there are water spots on the lens. I missed them during processing somehow.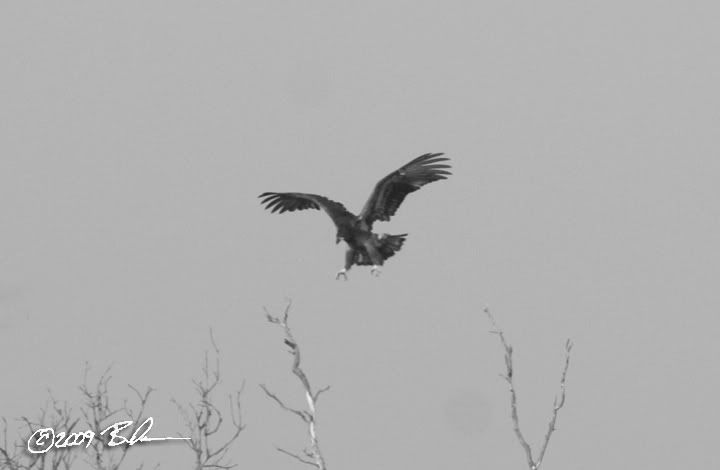 Made the hike into an area I call Lone Tree Point as I wanted to be able to have the rising sun to my back and watch a pond where the eagles like to feed and rest. The heavy frost was melting making the walk very wet and somehow while making my way out to the end of the point I managed to find something which left a 4" gash above my left knee. Great. Not only am I soaked from walking in the grass, now I'm bleeding. Good thing I was alone as my incessant bitching would have driven anyone else nuts.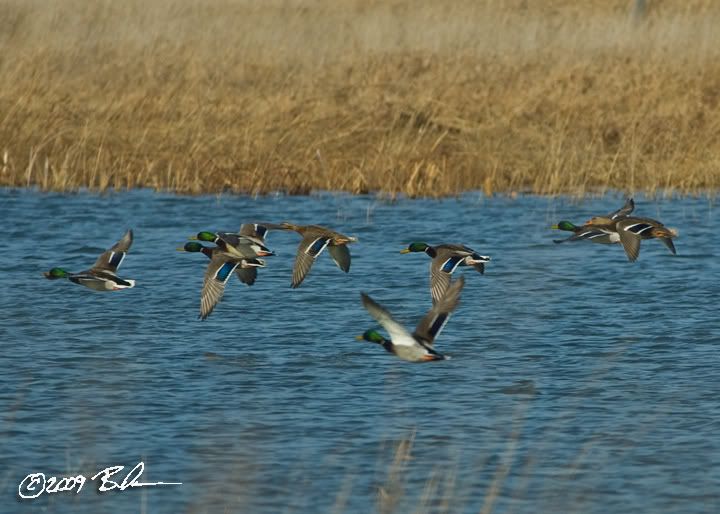 The point paid off with the light, but the eagles didn't really want to cooperate as they stayed pretty much to the south of me and into the sun. The constant flights of migrating mallards helped pass the time.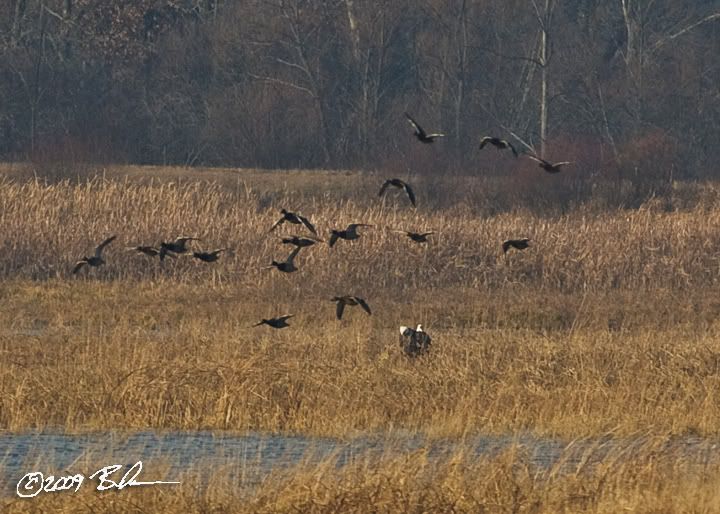 Not sure how I missed it, but this pair of mature eagles manage to kill a muskrat and were eating it on top of the hut. I wish I had a digi-scope as it was really cool to watch through the spotting scope and a 400mm lens will only do so much. What is kinda funny as the high ground you see behind them is the main trail I need to walk in on to get on the small trail which goes to my spot. Had I just stayed by the car I would have gotten a better shot.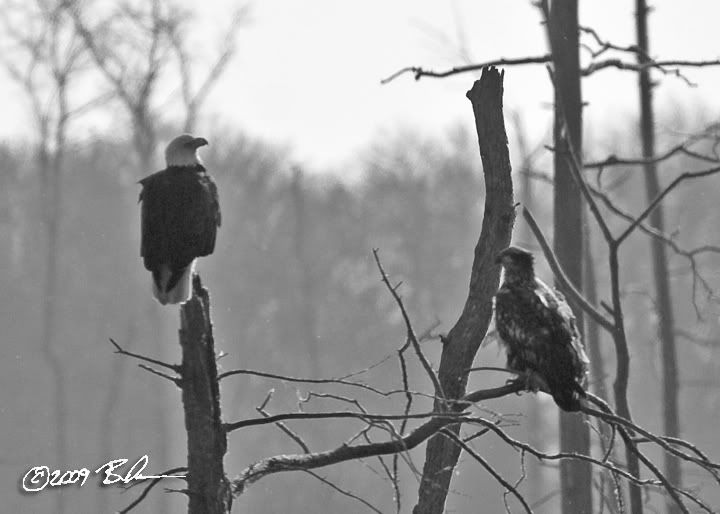 After sitting on a log at the end of the point for a couple of hours, the wind kicked up as being I was wet, it was time to head back to the car to dry off and stay warm. Even with temps in the upper 40's, the evaporation made it feel a lot colder and I was starting to shiver.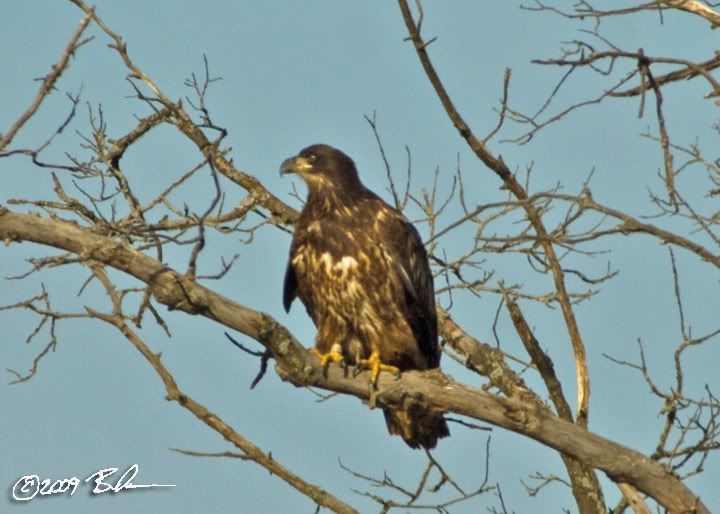 After taking a break for lunch, I headed back out and found this juvie. Look closely at his right leg. Yup, I wish he was closer so I could have gotten the numbers on his band to see where he was from.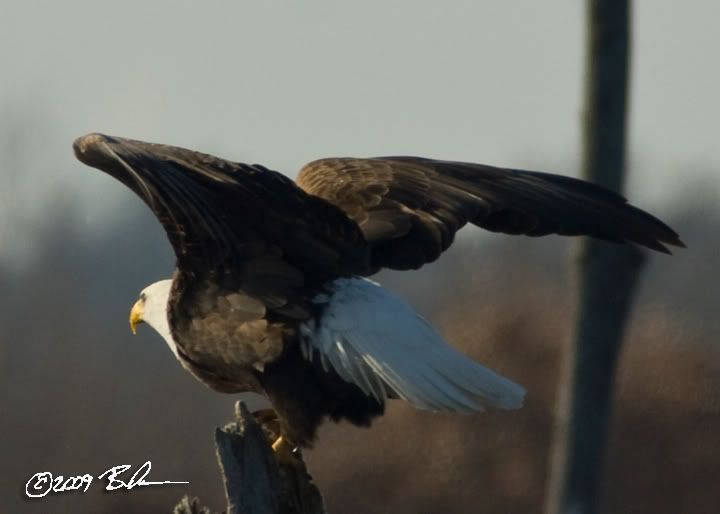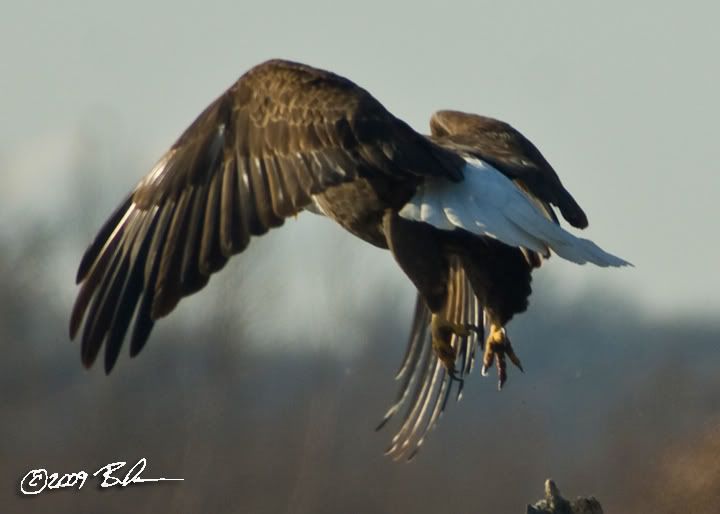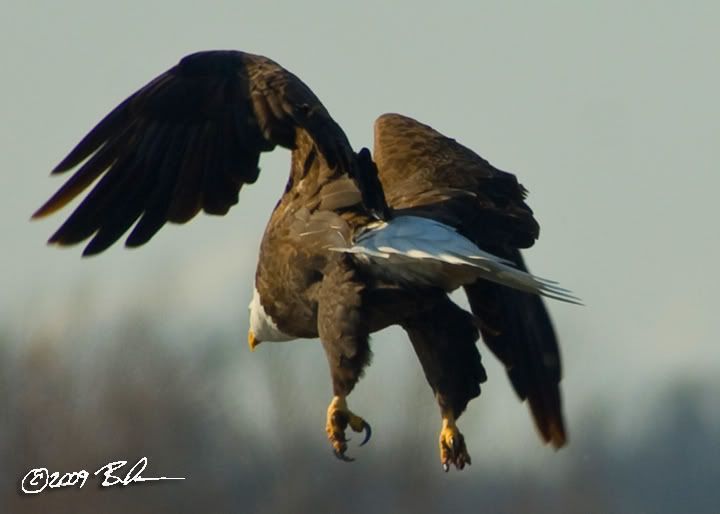 Persistence pays off. I finally found a cooperative subject. I took about 40 shots of this bird over a 30 minute period. I've always been fascinated with "eagle speak". There was another mature eagle about 200 yards south of this one and making a lot of noise. This one finally answered back then flew off to where the other eagle was. Probably was it's mate complaining about hanging out with his friends all day or something.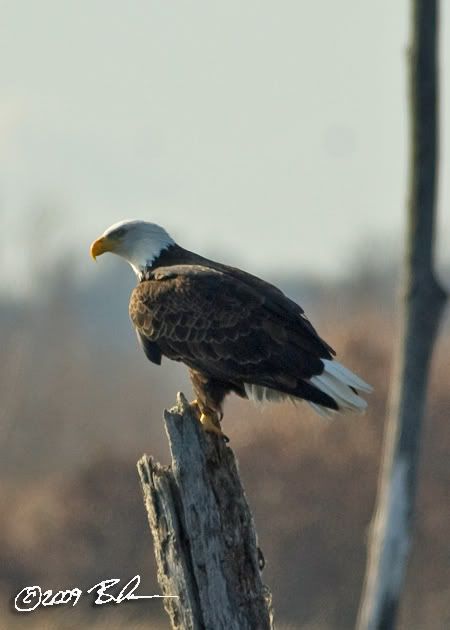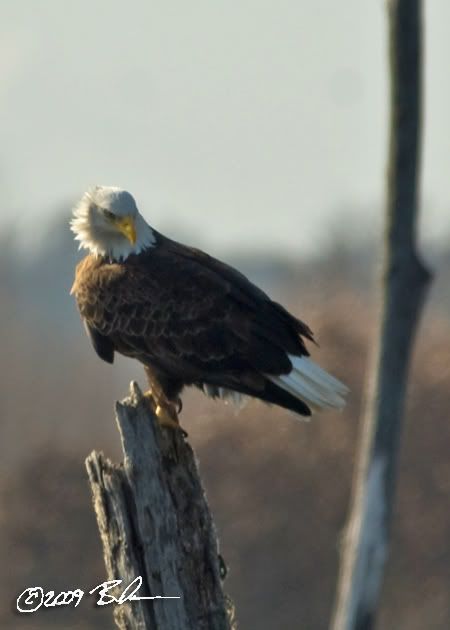 One more cooperative mature on my way out as I call it a day with the sun starting to rapidly set. By the time I quit, I had seen about 30 different birds. Some were the usual locals but a lot were new birds and very wary of my presence. Also, it's getting hard to shoot after 4pm but with the sun so low all day now, it's almost like shooting golden hour light as long as you keep the sun behind you or off to the side of your subject. Hoping for some colder weather now to get the small ponds froze up. Very anxious to get down to Alma, WI for the big eagle show each year but I have a feeling the El Nino pattern in place is not going to do me any favors. We'll see.