OK...every time I complain about needing faster, longer glass I'm going to put $5 into my lens fund. After wasting the better part of Friday looking at an iced over Mississippi River, there finally was some action at Colville Park in Red Wing. Yeah, too bad my 2.8 70-200 with a 2x still wasn't enough. It is getting really frustrating missing really good content by not having the equipment to get the job done. Maybe I should sell all the the video stuff and get a good 400mm or 600mm with a 1.4x. Or I could really throw my dignity out the window and put up a PayPal donations link on here and the website asking for a dollar from each vistor. So far I have also considered doing weekend medical studies and selling blood plasma. I know, a little extreme LOL. I would like to point out the yellow/golden tint to the photos from Friday is natural as they were all shot in the last 10 minutes of shooting light. The golden hour was really golden that day.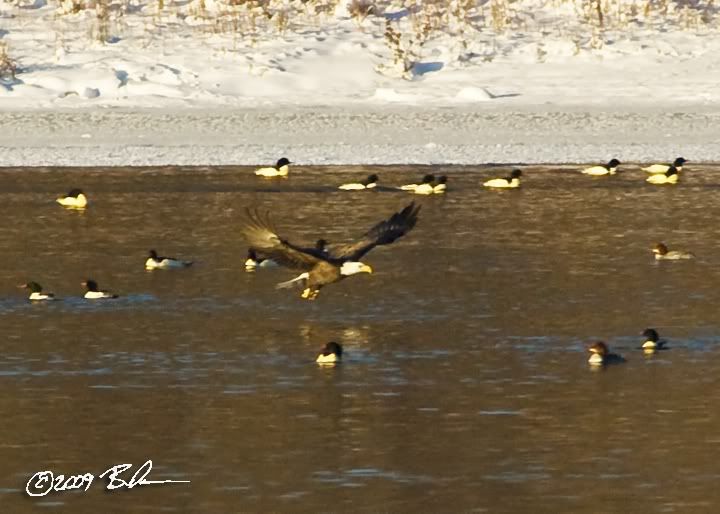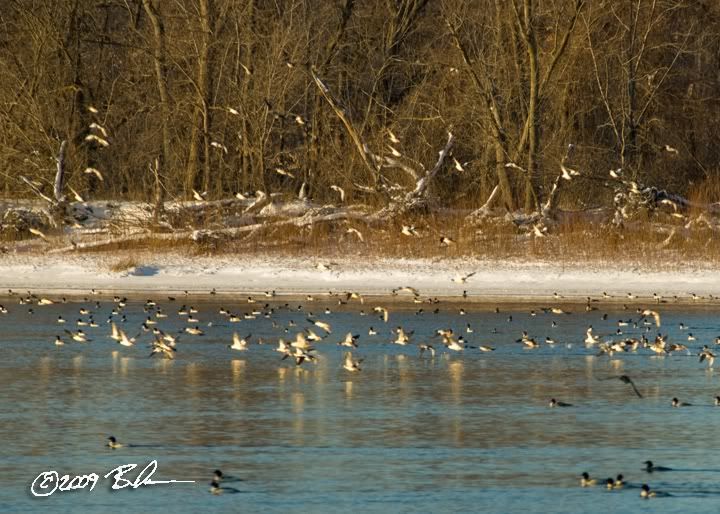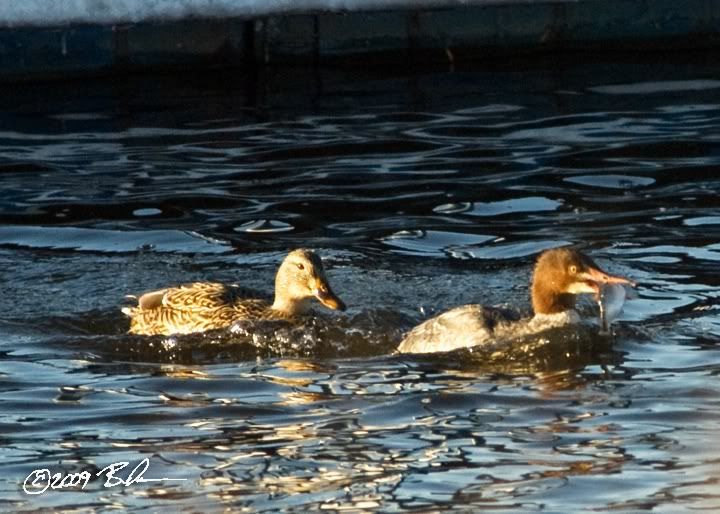 Friday was very interesting as I don't recall seeing this many common mergansers in one place. This was at Colville Park in Red Wing, MN. There were easily 1500-2000 spread out over a little less than a mile of river.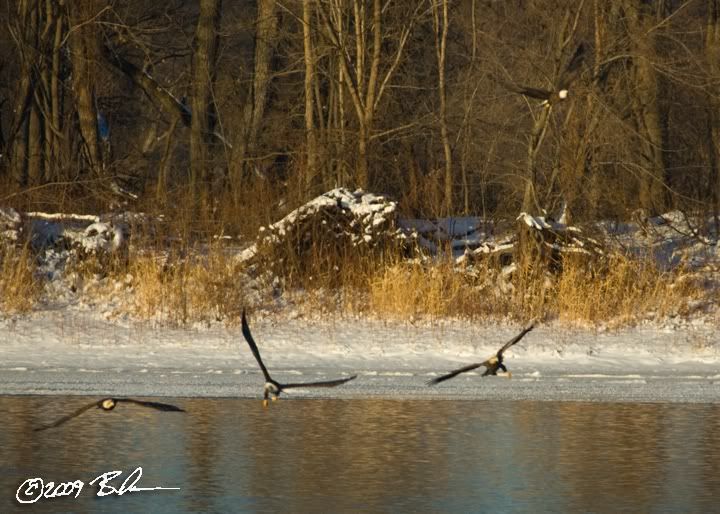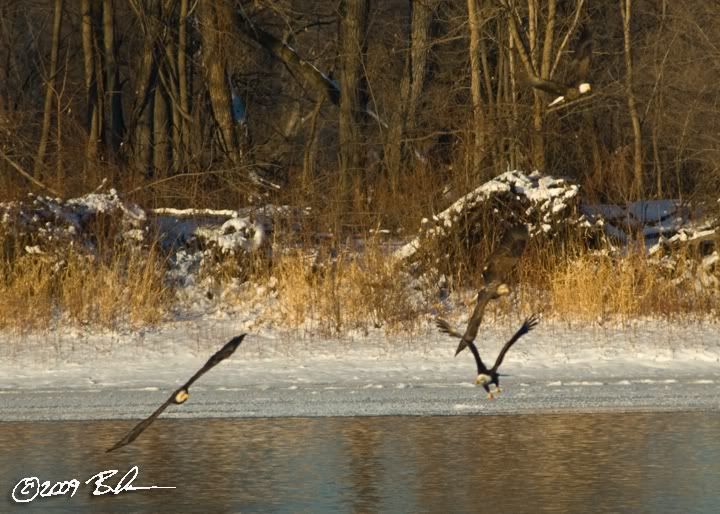 The eagle action was really quiet until these four showed up just as the sun was hitting the top of the bluffs behind town.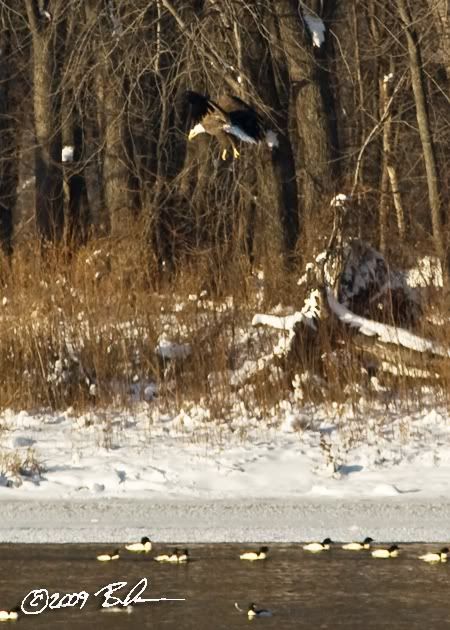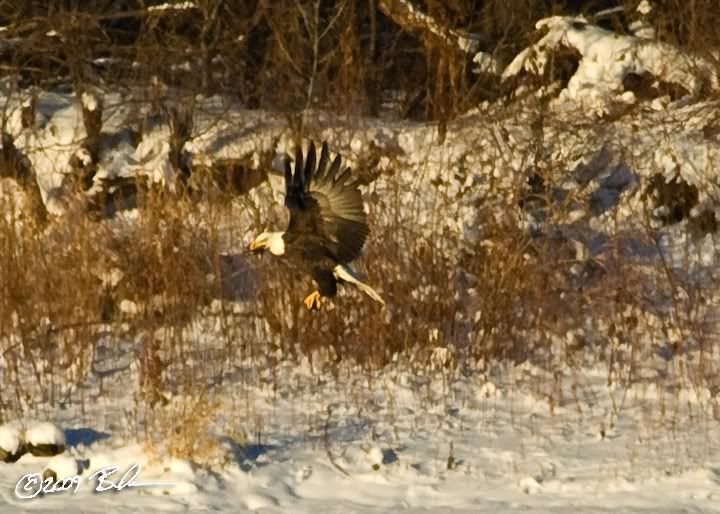 I was hoping one of them would go after a merganser but the only thing they had on their mind was fish and the river shad which are quite thick in this area. The sun dropped behind the bluffs at this point ending the day. Being I live out in rolling farm country, it always is surprising to see just how low the sun really is up here all day as we approach the shortest day of the year.
On Saturday I figured I would head back to Colville if nothing more than to watch the mergansers fish. This time Melinda went with me to see some different roads again and hopefully see a few eagles at least. As we were heading around Minneapolis, I looked to the southeast and could see some dense low level clouds coming in from the southeast. Not good. By the time we got to Hastings, it was totally cloud covered and by the time we got to Red Wing
I started to wonder if the thicknesses were enough to start squeezing out snow flurries. After looking around the part for a bit and not seeing much, Melinda headed off to do some shopping as I chose to take up residence on a waterfront bench in hopes something interesting would happen. Nice call there Bill. Two hours later and I hadn't touched the shutter button. However, a photographer came over and introduced himself to me. He said he was from Rochester, MN and his name was
Don Anderson
. Sometimes it's kinda weird to recognize a common name but I immediately knew who he was from a
Minnesota photographer's forum
Dave had recommended to me just yesterday. Had a nice chat for a few minutes before we both went back to staring at the few mergansers, fewer eagles, and a lot of empty, cold water.
Around 2:30 Melinda came to rescue me and we headed for home without a shot to show for the day. Once we got on top of the bluffs west of Red Wing, it was pretty evident there was a distinct clearing line to the northwest. I mentioned maybe there would be light and time to hit Fort Snelling State Park and the metro park on the way. Glad we did. I turned the shooting duties over to Melinda as we made our way into the areas where the deer usually hang out. Pretty freaky how that place comes alive when the sun gets to the horizon.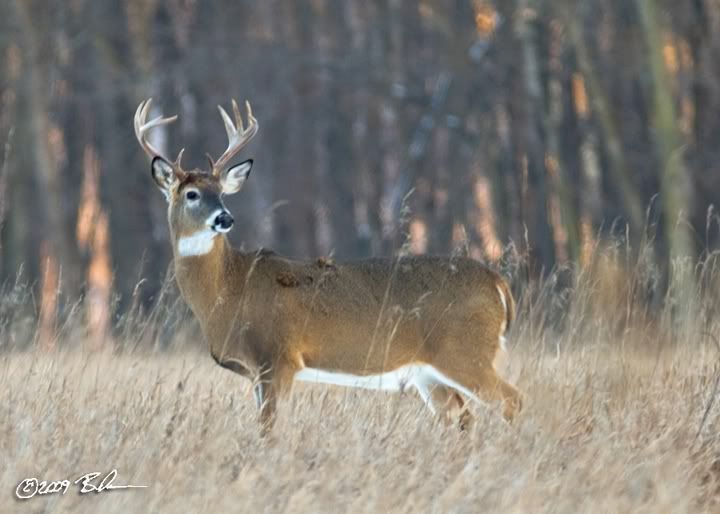 The only reason I got this shot was because he was on my side of the car. There was another photog shooting this deer as well as capturing the attention of the road gawkers. About this time Melinda and I noticed two bucks in the woods behind the other photographer and one of them was a real dandy.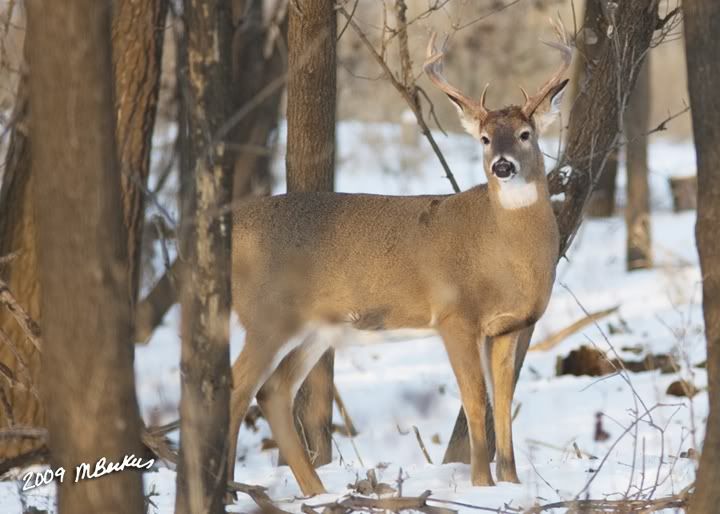 The smaller of the two. This guy was kinda skittish as there was one real jumpy doe he would keep watching (note they do not appear to be rutting anymore). Every time the doe would bolt, so would he.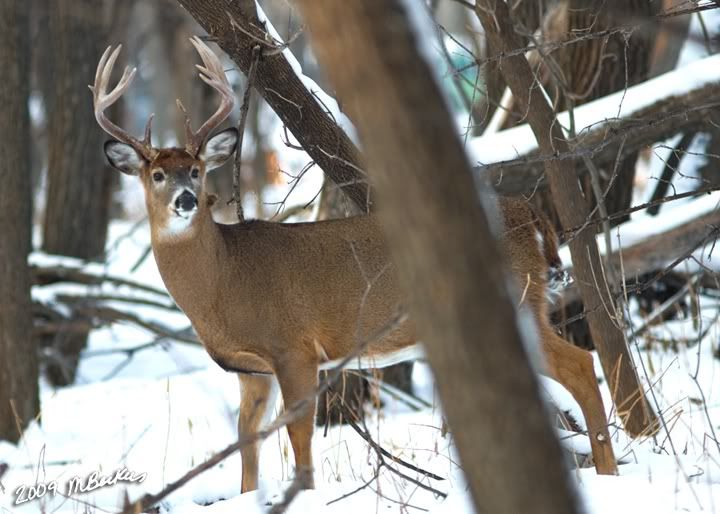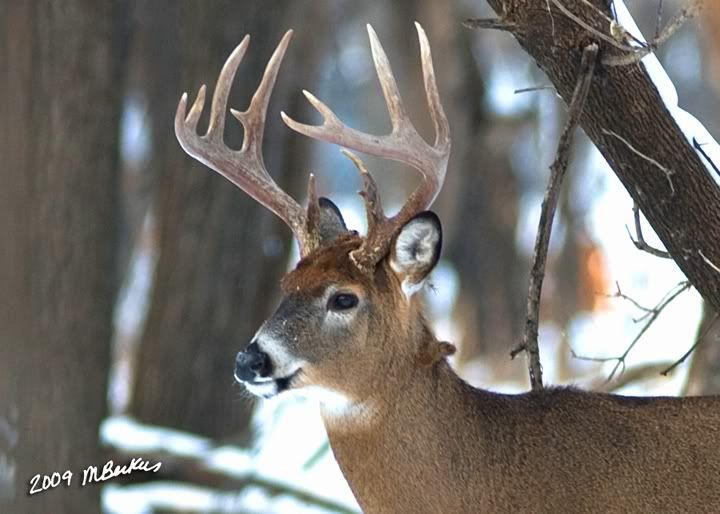 This is Mel's buck. Beautiful animal. I need to compare him to a photo David took when we were out on a different island but with everything frozen up know, the deer are going where ever, whenever.
Tomorrow's weather doesn't look too conducive to photo ops with a clipper system crashing through here tomorrow night. Steady temps during the day with clouds then a few inches of snow tomorrow night. Yup, Don was right. It is winter...