Wow, what a boring stretch of nothingness. Weather sucks. This is Minnesota, it is January and we are coming off a weekend of rain. Had it been snow, we would have had all kinds of fun but with temps well into the 30's Mother Nature is starting to get under my skin.
Projects upcoming:
1)
John Beargrease
start this weekend in Duluth. Missing the
Mid-MN 150
this year so we are doing this instead.
2) Framing. Melinda and I have a 20x30 eagle print to get framed along with an 11x14 of the 5-5-07 Yankton Merry-Go-Round multi vortex tornado and one of the best sunsets I've seen in 5 years from near home. Michael's is going to love me by the time these are done.
3)
Minnesota Storm Chaser Convention
and the
Minnesota Skywarn Workshop
. One has Wurman and Uncle Chuck at the other but I'm only 50-50 on both. I just don't see the purpose is sitting through a conference when I could be out doing something. Yes, I also have a beef with the chaser police still. Hypocrisy is a fine line sometimes.
So, until something better comes along, I'm going to try to post a few of my favorite shelf cloud pics from 2002 forward. I hate digging through old photos, scanning, retouching, etc, so you are stuck with what I have for digital images.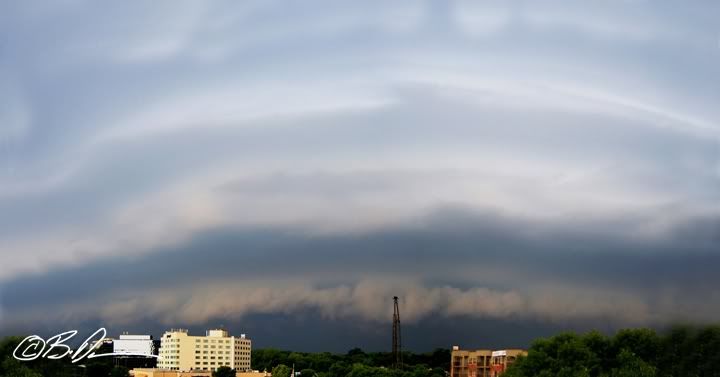 First up is
June 5th of 2004
. This is a three shot merge done in PS CS3. As impressive as it looks, it didn't do much as only the north end of line did some tree damage in Chisago county, Minnesota.