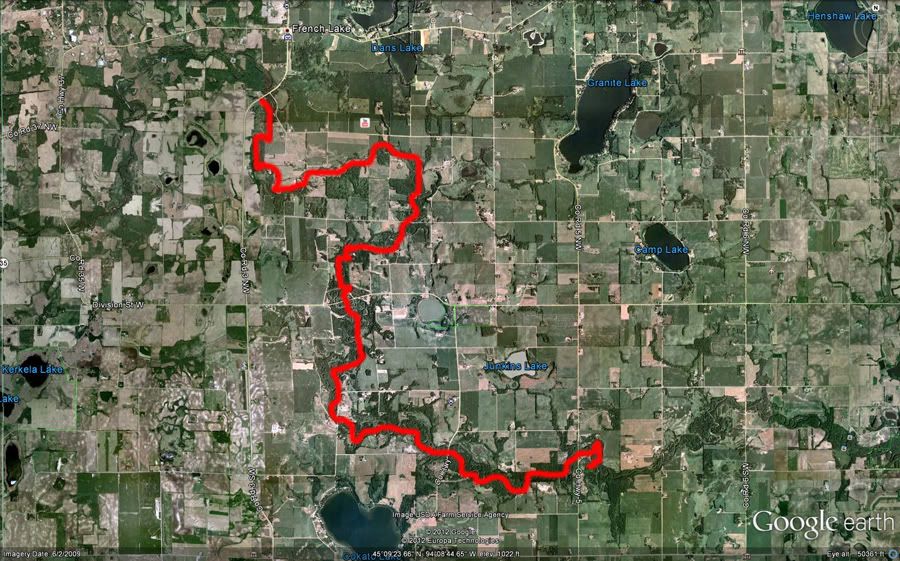 March 25th 2012 began as a cool (35°F) and cloudy day but the skies eventually opened up letting the sun shine down on a nice paddling outing. Cullen was originally going to join me but the weather station at home talked him out of it. The original plan was to cover the short stretch from Wildlife County Park in Wright County Minnesota down to Albight's Mill County Park (my put in site at the last blog entry). With Cullen favoring a hot breakfast and another hour of sleep, I talked Melinda in to dropping me off further upstream at the Betty T Mason Canoe Access off CR3 near French Lake, MN. Total trip would be 15 river miles. Was planning on trip lasting between 3 and 4 hours with a 15 minute snack break. Wellll.....didn't turn out exactly as planned. More on that in a little bit.
Here is a HD video made up of 363 still images from the majority of the trip. Shot with a GoPro Hero2. This was my first time using this cool little cam! Waterproof and super small. I like it.
Anyhow, back to the trip.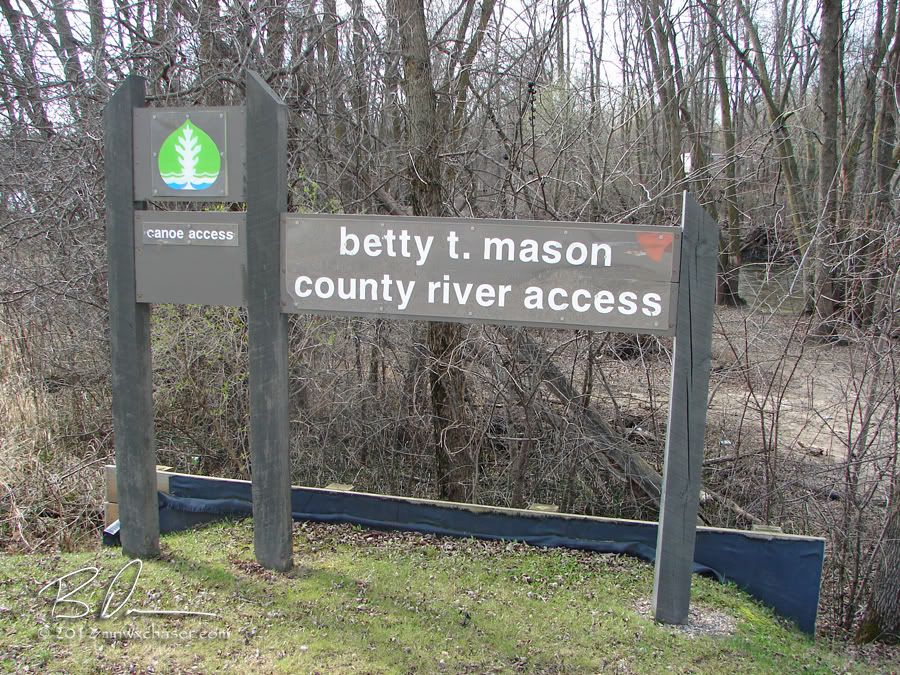 Put in point off CR3. The "access" is like many others along the Crow. Steep, washed out, and muddy. The better choice is to go downstream about 50 feet where there is a sand wash with a much more shallow point of entry (unless seal launches are your thing and you have a poly 'yak or canoe).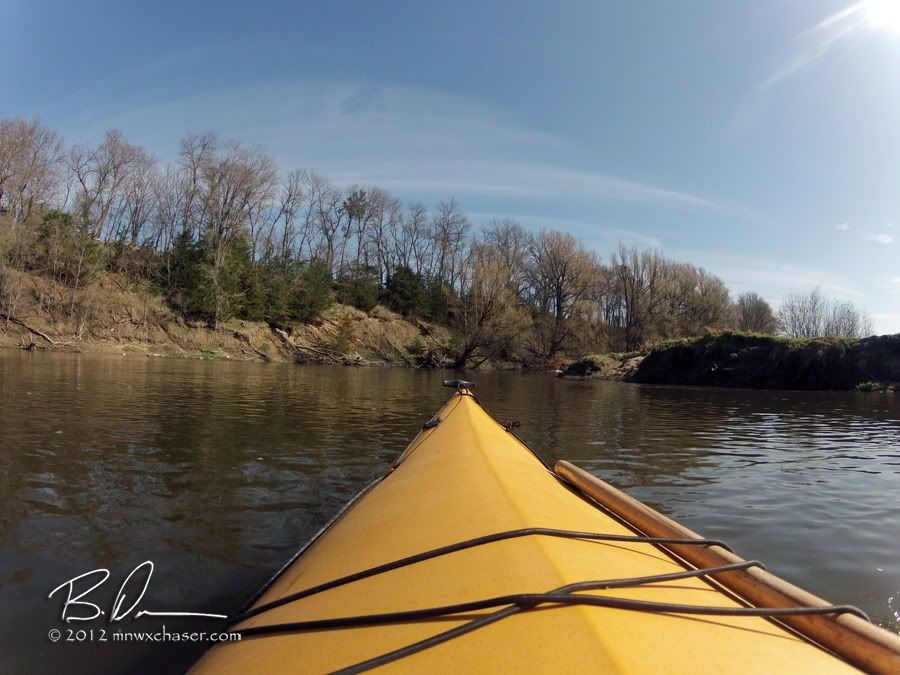 A nice mix of scenery on this stretch. High banks topped with pines and lowlands lined by pastures.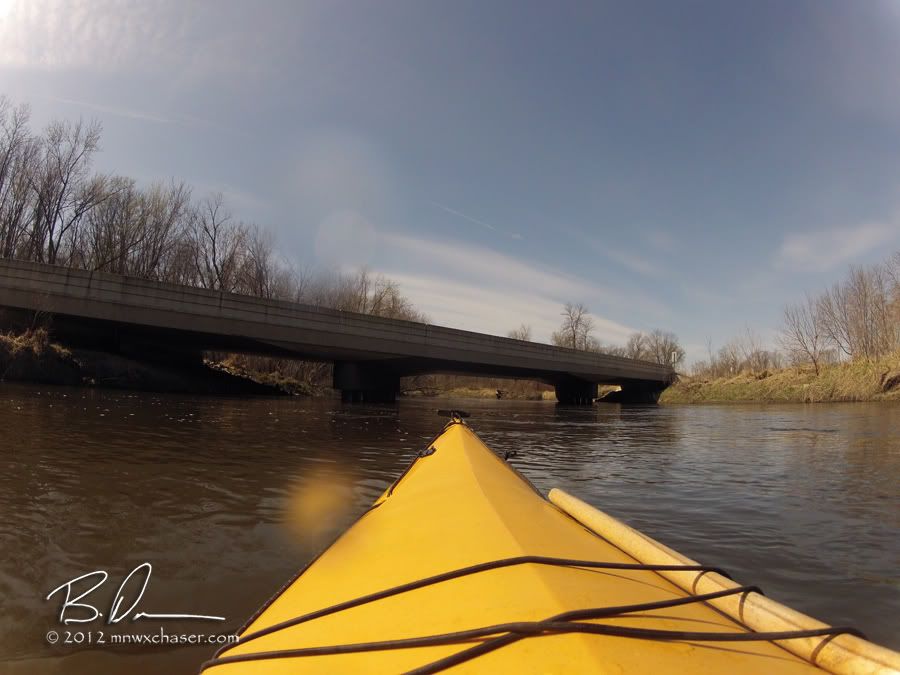 Coming up on the 10th street NW bridge just after passing the Carl Johnson county forest.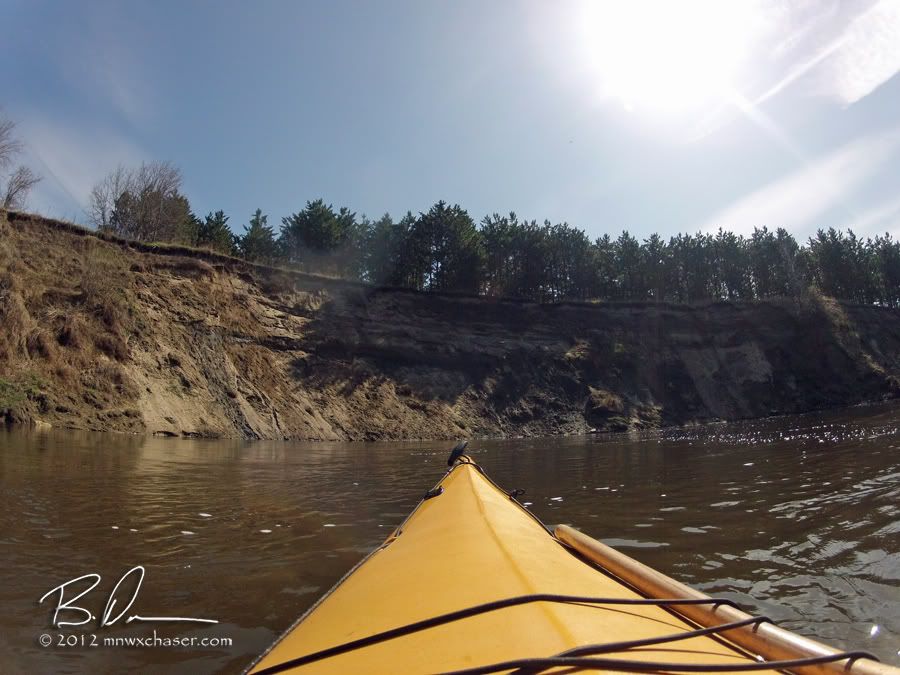 This a HUGE bank just north of CR35. The wide angle 170° field on view on the GoPro doesn't do it justice. I wish there was someone else with to use as an aspect reference. Crazy tall!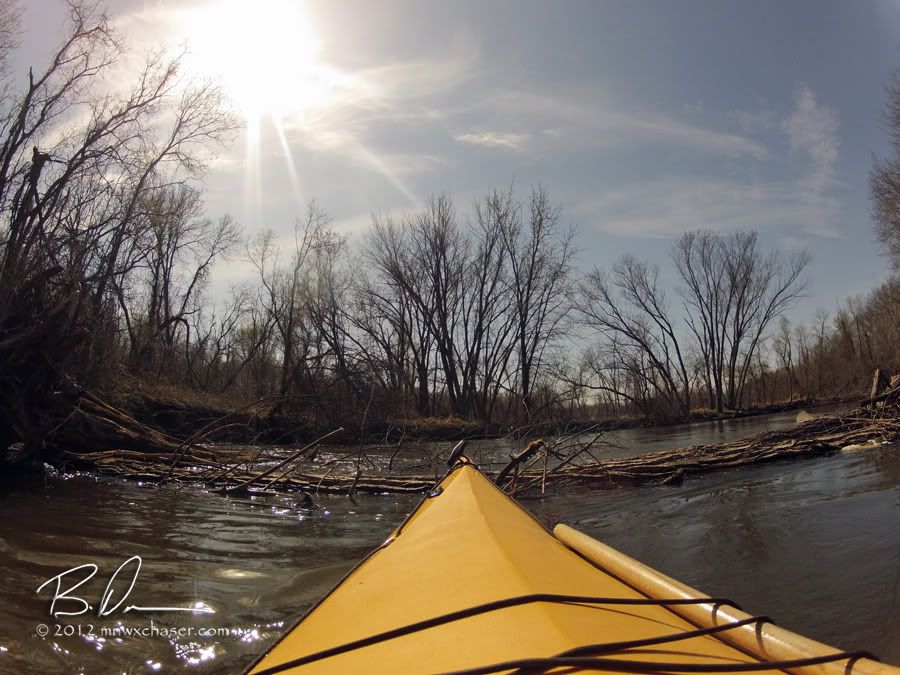 South of CR35 is where things got interesting. The planned stop was at Wildlife county park which is a little less than 2 miles from the CR35 bridge.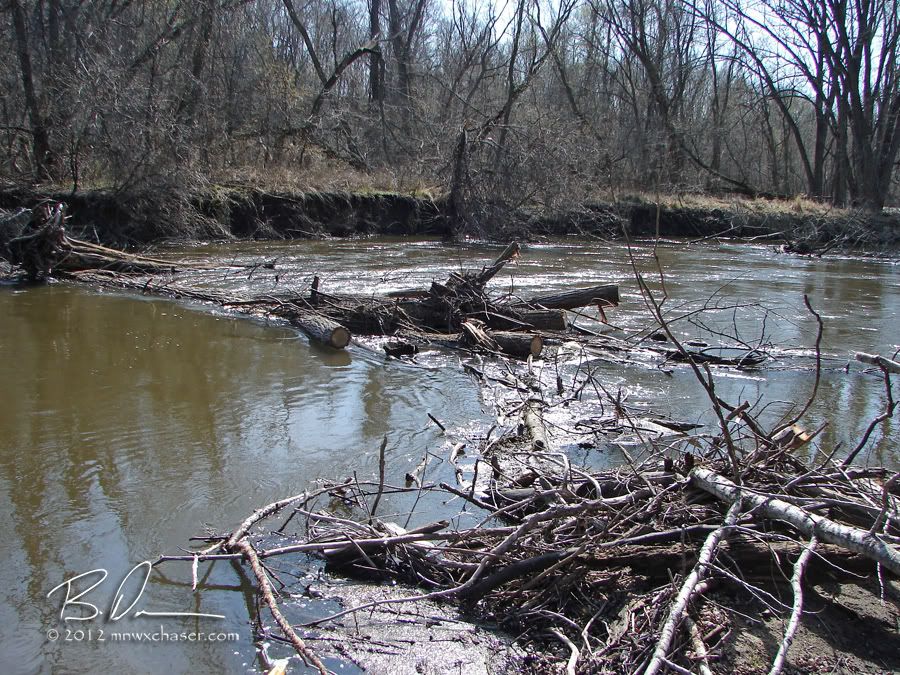 Snag #1. This one was obviously cleared by a DNR work crew in the past. However, when they cut a gap through the deadfall, the ends of the branches remained in the water on a sand wash on the west bank (river flows south at this point). Even with my axe there was no way to move the huge, water soaked logs wedged into the gap. Portage 1. It was easy since it was on the inside of a tight corner so there was plenty of soft sand to take out at and put back in. Also made for a nice spot to take my break a little early.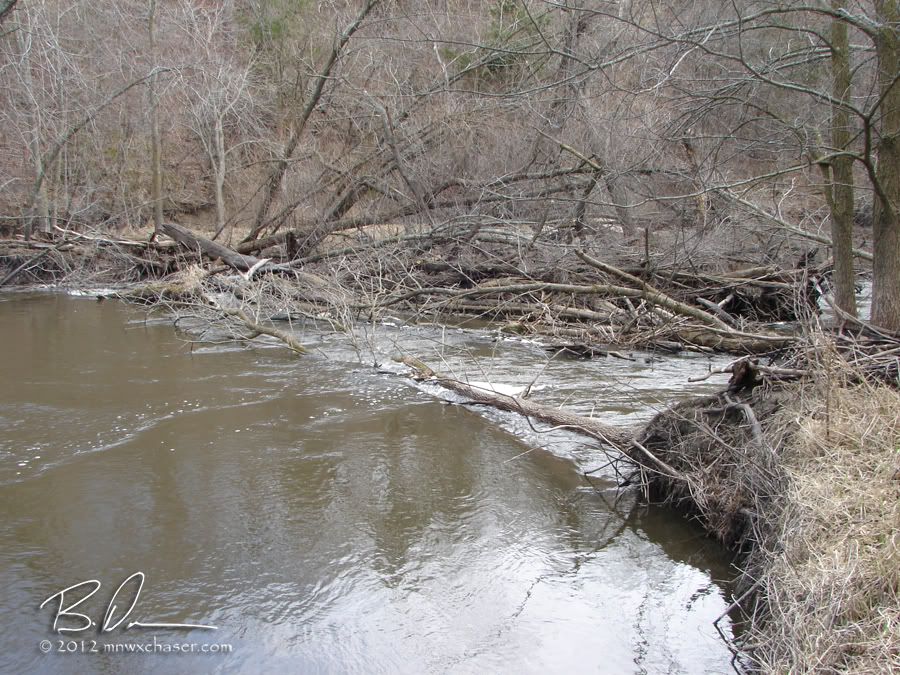 No sooner I get back in the water and in less than 1 river mile I ran into this snag. This one is not nearly as forgiving. I had to paddle back upstream to find a place to take out at (again). Was only about 60 or 70 yards. The portage was to the right and through mostly flattened out canary grass but eventually you end up carrying through the woods and around a bend below the snag where there is another sand wash with a gentle entry point. Total distance was about 150 yards. This one would be a pain if you are paddling with kids or have a lot of gear with. It's flat but once you get in the woods, there is a lot of uneven footing from dead wood on the ground.
Portaging past the snag. The re-entry point is about 50 yards to the right through the woods.
The rest of the trip was pretty uneventful. Lots of wood ducks, muskrats and a few eagles. No real changes in scenery from the upper part of the paddle. However, below the CR4 bridge, there is a stretch where the river constricts making for some faster water. No rapids or riffles, but the dead falls in the water creates a fun challenge with a series of fast turns which with test your boat control skills. Not dangerous per se but be prepared to be whacked in the head by branches if you are not fast enough or pick a poor line to get into position for the next turn. Honestly I found this 1/2 mile run to be the most fun of the day!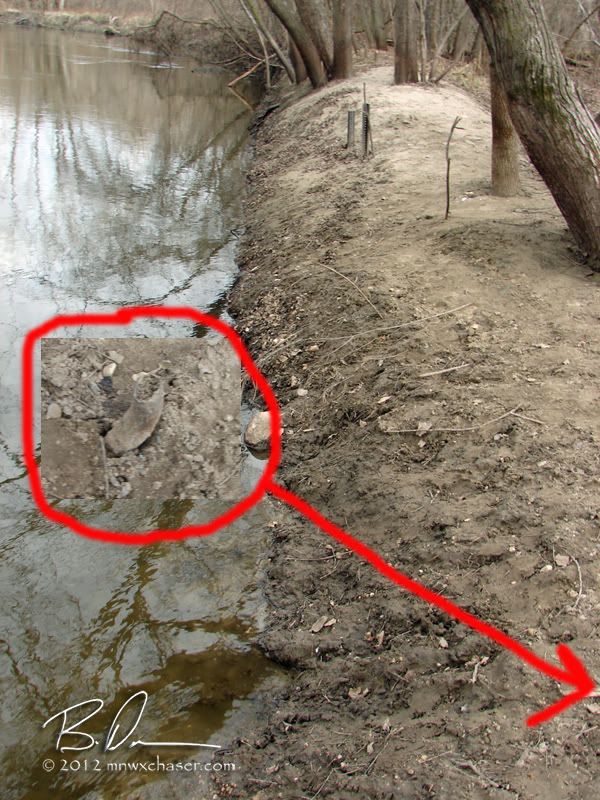 Down to Albright's Mill and my take out spot. In my last entry I made mention of how poor this access is at high water with a steep bank at the designated access. If the bank weren't enough, I added an image of one of several broken off sign posted still in the bank. I wouldn't recommend trying to get out here. The bank is steep and the drop off into deeper water is pretty bad.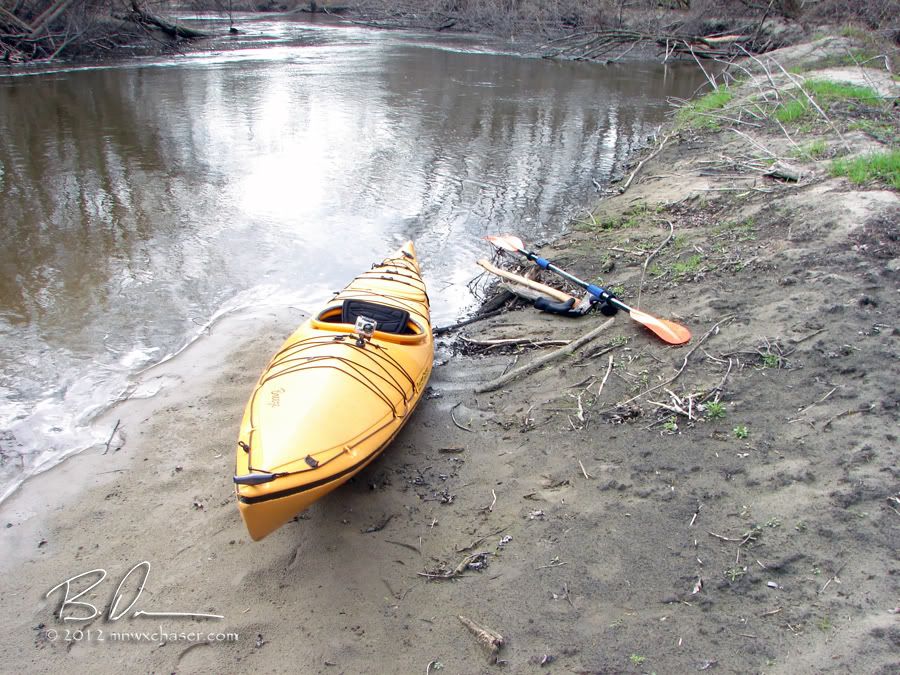 If you paddle downstream another 1/4 - 1/2 mile, the river snakes back on itself to the south side of the park where there is a sand wash which offers a much more forgiving area to exit your boat.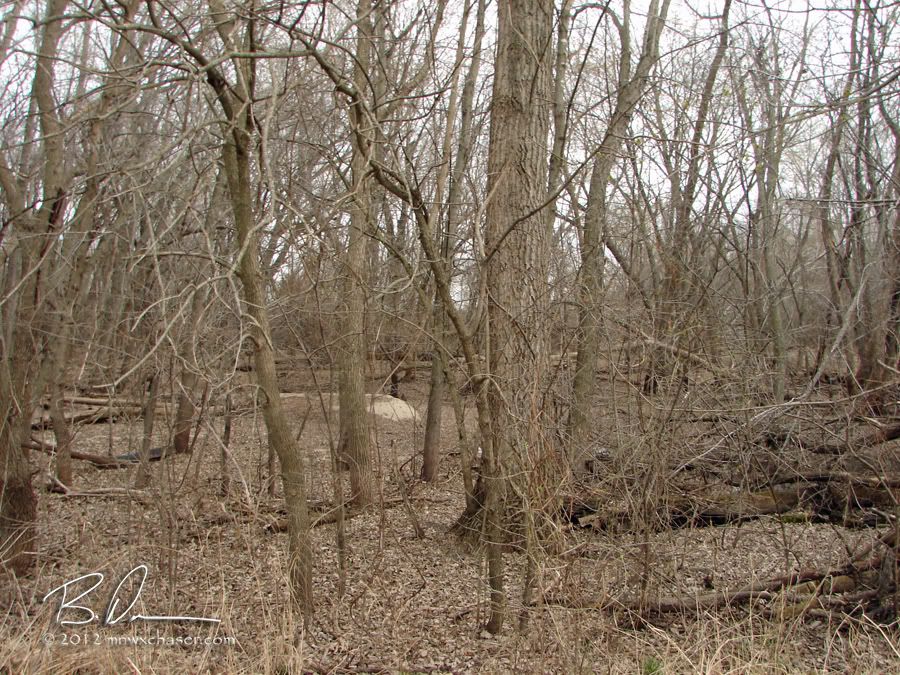 The caveat is you will be carrying your boat about 75 yards through these woods to the groomed part of the park. The parking area is about 25-30 yards from the edge of the woods. Yeah, it's a little work at the end of your paddle day, but a better option than risking rolling your 'yak or canoe trying to get out at that awful access point!
Looks like the next outing will be the stretch from Crow Springs Park to Rockford, MN were the north fork meets up with the south fork before making it's final run to the Mississippi River at Dayton, MN. That stretch should be a little over 12 river miles.